things to do
Waterlily Festival, Tour de Coops, Chicken Class and 40% Off Plants!
There's a bunch going on in the gardening world, starting tonight.
This weekend, Hughes Water Gardens is holding their 8th Annual Waterlily Festival and Invitational Art Show. The artists' reception is this evening from 6:30 to 8:30 pm. Stroll through the water gardens, meet the artists, and enjoy music, wine and appetizers. Address: 25289 SW Stafford Rd., Tualatin OR 97062. Events continue on Saturday with talks, tours and sales and information booths devoted to garden restoration, on Sunday with artists' demonstrations and more events, and into the week that follows.
The Tour de Coops is happening on Saturday July 24th from 11 am to 3 pm. Twenty-five chicken owners around Portland open their yards so you can see their coops and meet their chickens. This benefit event for Growing Gardens consists of a self-guided tour with stops all over East Portland – you can decide where to start and finish. Cost: $15 and there's a raffle for two stylish chicken coops, as well as gift certificates donated by local nurseries and feed stores.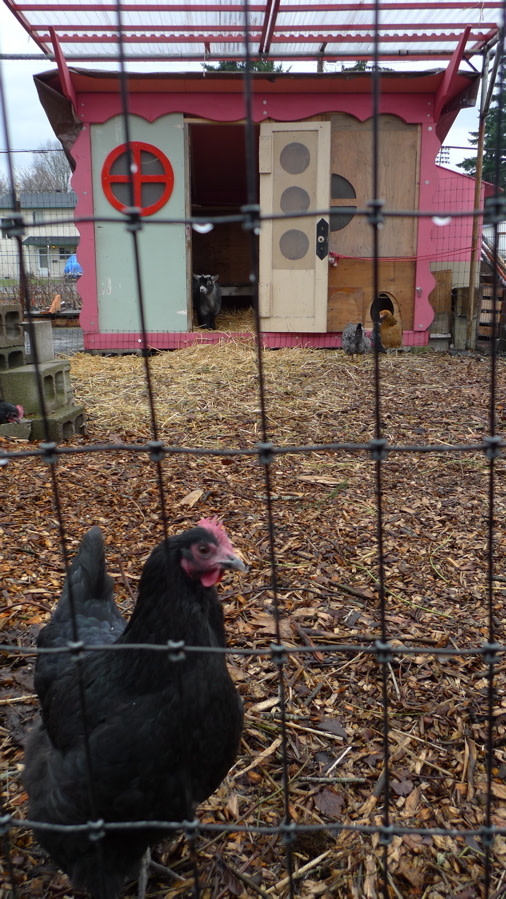 Buy your tickets today at Concentrates, Inc., Garden Fever!, Livingscape Nursery, Naomi's Organic Farm Supply, People's Co-Op, the Urban Farm Store, and Whole Foods Market in Hollywood. And 20% off if you have the 2010 Chinook Book and buy your ticket at one of the above retailers. On Saturday, head for the parking lot at Westminster Presbyterian Church at 1624 NE Hancock to buy your tickets, as well as chickeny books and resources, organic breakfast treats and such.
On the chicken theme, Naomi Montacre of Naomi's Organic Farm Supply – along with Lisa Ewing of the Avian Medical Center – will be teaching a PCC class – Chickens 201 – from 9 – 11 am at the store. Issues tackled include predators, health and behavioral issues, introducing new birds to the flock, and other chicken challenges. Sign up here. Cost: $29.
Finally, if you're just dying to go on a mad plant-shopping spree, you might want to stop by Ferguson's Fragrant Garden Nursery this Saturday July 24. They are closing their Lake Oswego store and in the consolidation process, are putting everything on sale at their St. Paul store, all while throwing their annual Midsummer Night's Dream Fragrance Festival. Forty percent off is nothing to sniff at. The sale runs all day on Saturday and from 5 pm on, there will be light appetizers and wine and "inspirational music" plus tours and talks on cultivating fragrance in the garden. Directions here.