plant person profile
Garden by Cycle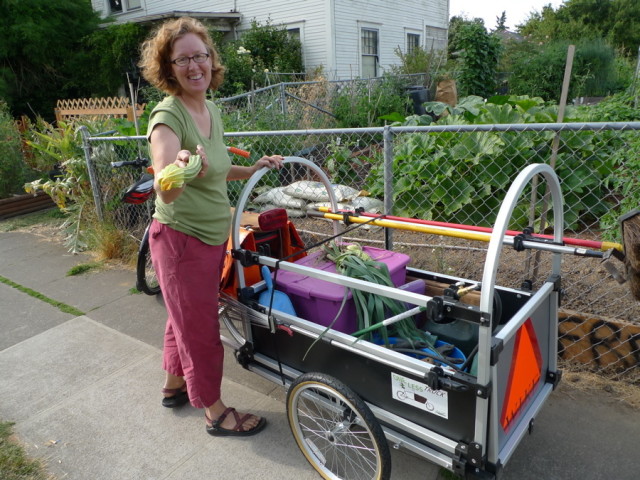 Biking and gardening – they're a natural together. So says Portlander Elizabeth Bryant, professional gardener and creator of Garden by Cycle, a sustainably-driven garden consulting and maintenance business. "It doesn't logically make sense to burn fuel to beautify the planet," she told me the other day when we met for coffee. I had button-holed her to talk business and check out her new cargo bike.
Her one-woman operation, Garden by Cycle was launched in July 2009 after she'd completed her OSU Master Gardener training, her Organic Gardening Certificate Program and, soon after, her Permaculture Design Certification program. Elizabeth's work includes garden mentoring and education; restoration; planting; and maintenance including weeding, pruning, dead-heading and general plant care – all using organic methods.
When she started her business, she used a regular bike with a trailer to pull her tools and materials. But this spring, her busy schedule began to take its toll, between pedaling with heavy loads up steep hills, finishing up her Permaculture program, and rushing to her daughter's school for drop-off and pick-up. She wondered whether she could get it all done. Her first thought: "maybe I need to buy a truck." But half-way through the process of looking into a loan for a truck, she switched gears and decided to look for a fancy, tricked-out bike instead. "I wanted to keep that feeling I had of abundance, not get into the deprivation mode that feeds those kinds of decisions. And I can relax on a bike! Driving creates its own stress and you can be just as psychically exhausted when you arrive in a car as you'd be physically on a bike."
To get the best of both worlds – the sense of calm that comes from pedaling while simultaneously not wearing herself out before even arriving at a gardening job – she converted to an awesome KONA electric cargo bike with an electric assist motor for steep climbs and heavy loads.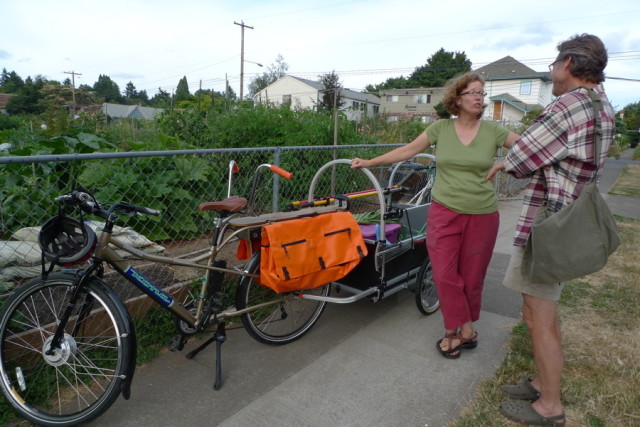 Apparently, it doesn't really go faster than a regular bike because it's "pedal-assist," not a throttle. So you don't really feel the power unless you're turning it on going up a hill. But since Elizabeth often works all day, then rides to her daughter's school to pick her up before finally heading home, that little extra oomph makes her job much easier – while saving gas, minimizing pollution, keeping her fit and helping her practice her principles.
She bought her lovely Kona Ute with an electric assist motor at Splendid Cycles.
Behind it, she pulls her gardening gear – sturdy but light-weight rakes, shovels, and hand-tools – in a roomy, handsome WIKE Park Pioneer Landscaping Trailer that can carry 150 pounds.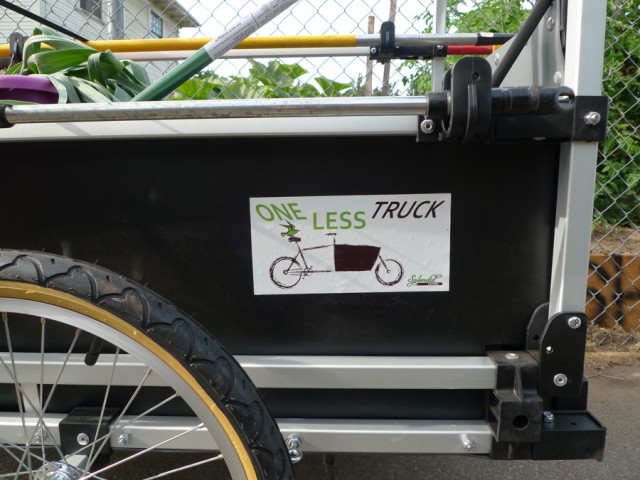 It's a great combo, especially with the child seat and handlebars for her daughter to grip on to for the commutes to and from school.
"The past year or more has been a learning experience," she says. "It's not always easy to do it all by bike. But I'm just amazed with what can be done." And her business has grown, too: "It started out with friends and neighbors and it's just grown from there."
Other links provided by Elizabeth, for those interested in learning more about gardening businesses run on bikes, both locally and internationally:
Portland:
Hand Made Gardens
Bike Portland Article
Sunroot Gardens
Other folks:
Bicycle Gardening
Brighton Cycling Gardener
The Cycling Gardener
Jardiniers a Bicyclette
Graceful Gardens