plant geek's corner
Risen from the Dead
- good things come to those who wait!
I've often suggested waiting until mid-July before ripping out winter freeze-damaged plants. Because sometimes it takes that long for plants' roots to push out new growth after a really damaging freeze.
This year, my tendency to procrastinate played in my favor: I never got around to tearing out many of my purportedly dead plants and in the past week, several plants I thought were total goners arose seemingly from the dead in my garden. In mid-August.
I was sure they were hopelessly shot back in February, when their foliage turned black and their stems shriveled up after the December 2009 freeze. From what I could tell, they were dead to the roots.
But some Zone 8 plants can still rally after a Zone 7 winter, if we are patient enough to give them time. Here's what's just emerged this past week – all had been cut back to stubs in about April and left in the ground:
Sunsplash wire netting bush (Corokia x virgata 'Sunsplash'). Listed at USDA Zone 8a (10-15F), this is a cultivated variety of a fantastic and striking New Zealand native evergreen shrub with blackish-purple-tinted stems and bright gold-splashed green leaves that positively shine in the garden. This past winter knocked it to the ground – for good, I thought.
Pelargonium sidoides With gorgeous, roundish, wavy-edged, soft silver leaves, this South African native geranium doesn't even need flowers to look good. But the airy sprays of dark purple to burgundy flowers appearing all summer and fall happen to be just beautiful. How nice to see it returning from the roots. The geranium is rated hardy 10-15 F but it dipped down to 9 F one night in my garden and stayed well below freezing for days on end so I'd say this is a tough little geranium.
Last month, I was surprised to see my Chilean lantern tree (Crinodendron hookeriana) pushing up from the dead-looking sticks I'd mourned over earlier this spring. Often listed cold-hardy to 20F, it's clearly tougher than that. This broadleaf evergreen shrub has dramatic, strawberry-like, red flowers that hang like lanterns from pretty red pedicels (stalks). It's a striking plant with very handsome, dark green foliage that recovered quickly from the 2008-2009 cold spell but was cut to the ground this past winter. It was great to see it rise again.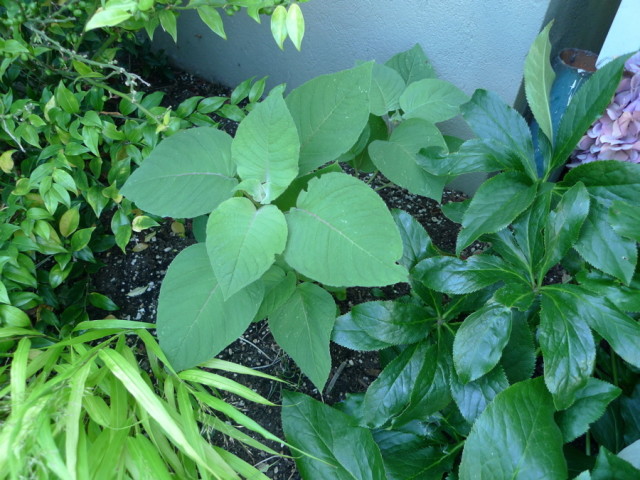 Fuchsia speciosa, reputedly barely hardy in our area, was late to emerge (July) but is now pushing a foot tall. Typically it's in full flower by July. But at least it lived!
Finally, I had torn out a big 10-gallon Stardust ribbonwood (Hoheria sexstylosa 'Stardust'), a broadleaf evergreen tree from New Zealand whose starry little white flowers look so lovely in mid to late summer. It looked totally gone and the bark was split down to the base. But I couldn't throw away the root ball with the 1-inch caliper chopped off tree trunk still attached. And it's a good thing because within 2 weeks, it was sending up fresh shoots from the rootball – which was lying naked on a path in my side yard.. Another winner!
The moral of the story? Sometimes patience (or procrastination) is rewarded. Now this doesn't mean all these plants will make a spectacular recovery – sometimes it takes a plant so long to recover that another unusually cold winter arrives before it can truly establish itself again.. But I have a soft spot for survivors. I'll see if they can get through this next winter (hoping for a mild one) to make a real recovery in 2011.