books
Terrariums
or, how I've spent the last 40 days and 40 nights!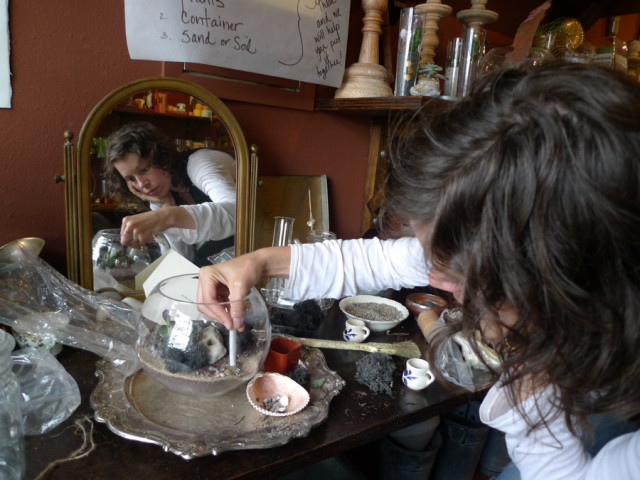 Followers of this blog have heard me referring here and there to an enthralling project I've been working on recently.
And what's the project, you may ask? It's a lushly-illustrated book on how to make captivating, contemporary terrariums from a combination of beautiful, organic materials and found objects. The book will be published in the spring of 2011 by my favorite publisher, Portland's own Timber Press.
The terrariums I'm writing about were designed and created by Amy Bryant-Aiello of Artemisia Garden Nursery and photographed by Kate Baldwin, a Seattle photographer who has artfully captured the essence of Amy's dreamy terrarium creations.
I've spent a fair bit of time at Artemisia, gazing at these fanciful hand-made terrariums and contemplating how to distill the essence of each delicious confection into an inspiring description – then provide instructions on how to make and care for them.
The shop is always brimming with the most beautiful materials… garnet, apricot, snowy white and shimmery black sand… crystal chunks, aragonite clusters, raw carnelian, smooth river rock from Japan, shards of clear and milky white stone… seashells, from tiny creamy clams to smooth, ruffled conch shells with pearly-pink and blue insides, scrubbed clean or encrusted with barnacles… native lichen on alder branches… clumps of reindeer moss… silk flowers… tiny mirrors… antique bottles… vintage jewelry… bones and feathers… printed/folded paper art… and of course, the plants themselves: air plants (Tillandsia sp.), native "Spanish" moss, funny little houseplants in Japanese moss-balls (kokedama) and dramatic succulent plants.
Visit the shop some time if you're looking for inspiration. It's a dreamy place to while away some time. And if Amy's there, ask her to teach you how to make your own terrarium. Give yourself a bit of time to play with materials and make yourself something magical to take home. And keep an eye out in the spring for our little book. I think it's going to be a good one!