get dirty
Fall Greens and Winter Veges
a weekend project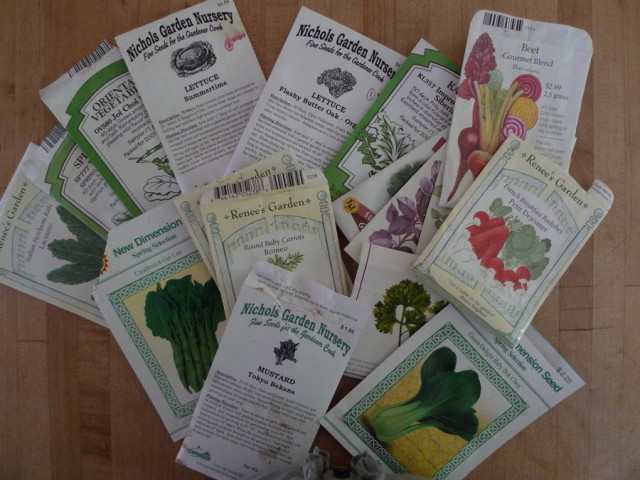 There's plenty of good stuff to do in the vegetable garden this weekend. Apart from weeding, watering, harvesting (and hopefully eating!), there's planting. After all, there are salads to be made this fall, and root veges to roast this winter, and tender broccoli florets to eat next spring, drizzled with lemon butter and fresh ground pepper. And the only way you'll get them from your own garden is is you get out and plant some time soon.
Since it's going to be a hot weekend, you might consider planting in pots and keeping them out of direct sun for a few days until they sprout. You could also use shade cloth if you sow them in the open garden… or just take your chances. Freshly planted seed are most vulnerable when they first germinate (sprout) and it will be a few days before they do that. So just keep your new seed bed watered and everything should be fine.
If you're in a time crunch, start by planting greens. Sow seed for fast-growing, heat resistant lettuces ('cause it looks like there's more heat to come) and salad greens and herbs for snipping like kale, beet greens, mustard (many types), spinach, mache, arugula, parsley, cilantro and more fresh basil. Chard can be planted, as can many Asian greens including baby bok choi, joi choi and gai lan. These can be snipped and enjoyed as baby greens but those that aren't eaten in fall will often keep going until the first frosts and beyond.
With an eye to the winter vegetable garden, head to the nursery soon: the racks are stocked with interesting winter vegetable starts: cold-hardy, over-wintering cole crops (cabbage, broccoli, broccoli raab, kale, Brussels sprouts, cauliflower, collards etc) and many of the previously discussed greens actually grow best during the cool autumn months. Cole crops (plants in the cabbage family) even taste better after the first frost. In the next month, try planting cold hardy lettuce varieties. (Search catalogs like Renee's Garden, Nichols Garden Nursery, Wild Garden Seed, Territorial Seed and The Cook's Garden for seasonally specific varieties.) Just keep your scissors away from them this fall so they can do what they do best: keep slowly growing through the cold winter months to provide you with nutty, flavorful winter and early spring meals.
If you haven't grown purple-sprouting broccoli: before, buy your starts now. It's an heirloom variety with gorgeous purple florets and a nutty, indescribably delicious flavor! Plant now for harvest in March to April.
Oh, and you can still squeak in a planting of quick-growing radish and overwintering root vegetables including carrots and beets.
We're still over a month from being able to plant garlic so stay tuned for that.