plant geek's corner
In a Tight Spot? Plant This Eucryphia!
Eucryphia x nymansensis 'Mt. Usher'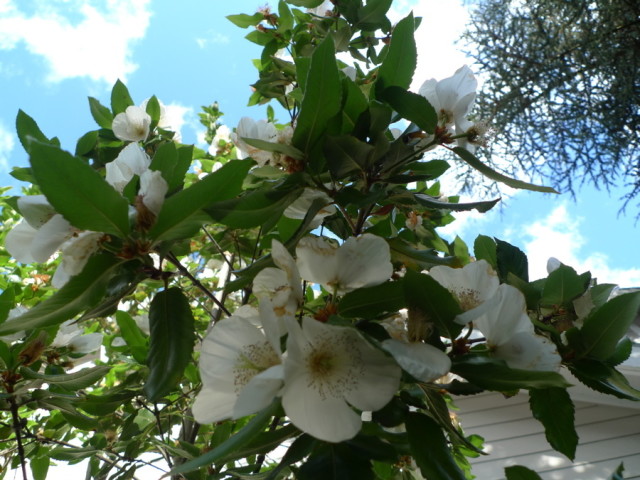 I took these photos about two weeks ago while visiting a friend. The tree is actually in her neighbor's yard but, lucky for my friend, it grows just feet from her kitchen window. By now, the tree may be past its flowering prime – especially after the recent torrential rains. But the flowers do open over a very long period in late summer so chances are, it's still looking sweet.
Eucryphia trees have an elegant, upright, often columnar habit (depending on the species). Some are slender enough to fit in the funkiest urban spaces yet not so narrow that they look scarily rigid.
The hardier evergreen species' leaves – including the one I photographed – are handsome in winter, only suffering in the coldest, iciest winters. The foliage can vary a lot in size and shape, depending on species but it's always attractive and there are some lovely variegated-leafed forms, as well as selections with lustrous, pale pink flowers instead of the typical white.
Flowers, which range from modestly charming (less than an inch across) to flagrantly showy (three inches across) are white with a fluffy boss of yellow stamens. So elegant! They appear in August and September when few other trees are in flower, and are lightly, sweetly fragrant. When I was traveling in Tasmania, I bought delicious, intensely flavored leatherwood honey made from the flowers.
The genus Eucryphia includes seven species – five from Australia and Tasmania and two from south-central Chile and Argentina.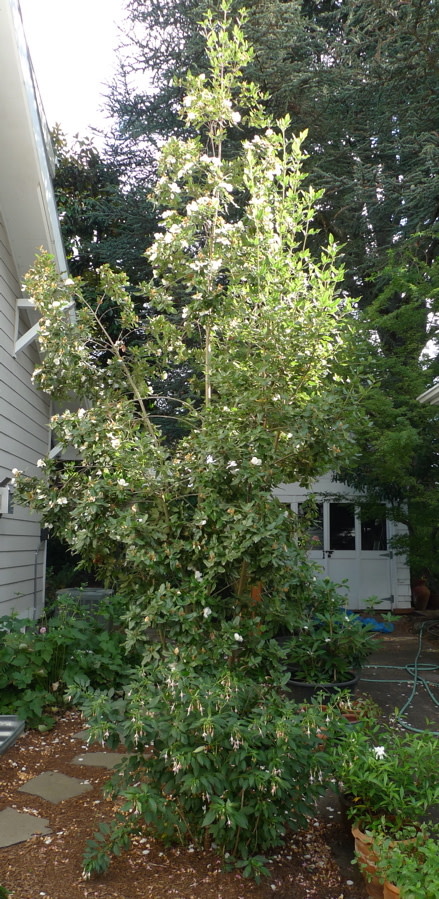 Mt Usher (pictured), a hybrid between the two Chilean species E. glutinosa and E. cordifolia, is said to be the most cold-hardy of all eucryphias. Other hardy hybrids commonly grown in the Pacific Northwest include E. x nymanensis 'Nymansay' and the more elegant-foliaged, narrowly columnar E. x intermedia 'Rostrevor', a.cross between Chilean E. glutinosa and the Australian E. lucida.
The relatively cold-hardy Eucryphias listed above are not difficult to grow if their basic requirements are met. In our inland climate, they prefer a woodland setting where their roots can be shaded and tops can be in sun. They like to be protected (by trees or buildings) from icy winter winds, which can damage the foliage in winter. For soil, they prefer humusy, woodsy, slightly acidic, well-drained soil that receives some supplemental water in summer. (In other words, they are not particularly drought-tolerant.) They're hardy to about 0-10F, depending on the species, but their leaves can brown and drop in temperatures below 12F, especially if the super-cold, drying winter winds hit the Portland metro area. They thrive in the maritime atmosphere of the Pacific Coast, although they also seem to especially enjoy warm pockets in downtown Portland. (Watch out on terraces, though – they don't appreciate hot sun, reflected heat or drying winds.)
Good sources for cold-tolerant Eucryphia trees:
Xera Plants – a wholesale outfit whose plants can be found at all these locations.
Cistus Design Nursery – call to ask, as Eucryphia are not on their current availability list but they typically sell several types.
And aha! While looking on line for Eucryphia, I suddenly remembered Plant Lust (I wrote about this on-line plant-hunting resource here.)
…so just go to Plant Lust and type Eucryphia into the search engine to see a listing of available plants in our region. (So far, all from Gossler's Nursery in Eugene, OR.) You can click through directly to Gossler's from the Plant Lust site, too, which is nice.