things to do
HPSO Fall Plant Sale, Queen of the Sun (Bee Film) and More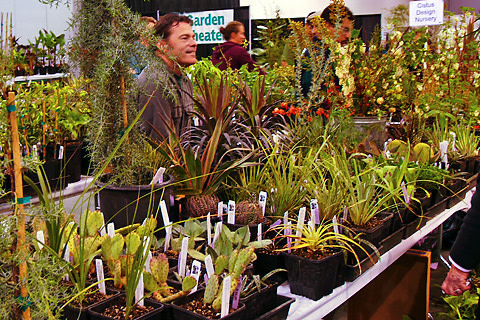 Some interesting horticultural stuff to do this weekend!
HPSO Fall Plant Sale and Garden Festival
First, the Hardy Plant Society of Oregon's Fall Plant Sale and Garden Festival takes place this weekend: Saturday & Sunday, September 18 & 19, 10 am-3 pm. All the most wonderful Oregon and Washington specialty plant nurseries will have booths brimming with interesting plants, plus there's a garden art area (furniture, recycled art, glass baubles, pots, etc) and a full roster of talks and seminars by local gardening smartie-pantses. Plus unhealthy yet tasty junk food like hot dogs and Ruffles potato chips at the Expo Center cafeteria-like windows. I love that stuff! (About once a year, anyway.)
BEE FILM
An exciting and long-awaited film project, Queen of the Sun, a documentary on bees, directed by Taggart Siegel (award-winning director of The Real Dirt on Farmer John) opens tonight, Friday September 17, at the Hollywood Theatre. Plants from Cistus Design Nursery will be raffled off during intermission. Learn more about the film here.
DEADLINE TO REGISTER FOR FULL-MOON WALK
Today – Friday September 17th @ 5 pm – is the deadline for reservations for the Wednesday September 22nd Moonlight Garden Walk at Dancing Oaks Nursery in Monmouth. If you haven't been to Dancing Oaks Nursery, this would be an incredible time to visit. Show up early and you can shop for plants from one of the Willamette Valley's premier specialty plant nurseries. (If you'd like to meet the lovely owners of Dancing Oaks and check out their plants, they'll be at the HPSO Sale this weekend.) Tickets are $25 and include catered hors d'oeuvres, Airlie wines for tasting and sale, music by harp guitarist John Doan, and of course a moonlit walk through a deliciously-scented, scruffily romantic country garden at its late summer peak. Please call the nursery to register: Dancing Oaks Nursery, 17900 Priem Rd, Monmouth, Oregon. Tel: 503-838-6058