good stuff
Busy as a Bee?
an entrancing bee calendar whose purchase will help support the Xerces Society's valuable work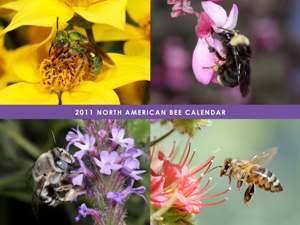 Here's a wonderful gift for your favorite bee-keeper or bee-lover (who might be yourself): it's a 2011 calendar of native North American bee species (bumbles, honeys, and more), the sale of which will support an organization whose work lies at the core of every good gardener's success: the Xerces Society.
Each month, the calendar will introduces you to a different bee genus, with full-page "bee pin-up," accompanied by notes on preferred plants, nesting needs, and guidance on how to identify the genus—and, of course, a complete day-by-day calendar for each month.
Portland's own Xerces Society is a scientific organization devoted to the study, preservation and legislative protection of invertebrates ("bugs," to most of us). (Here are details on what they are all about.)
Invertebrates include worms, caterpillars (and their adult form, butterflies and moths), dragonflies, bees, flies, and myriad other wee creatures that populate the natural world, including our gardens, where they help create our compost, fluff up and enrich our soil, pollinate flowers, feed birds, weave webs, dig miniscule holes, creep around waving their antennae, pinch us from time to time, and give us the opportunity to marvel at their alternately exquisite and gruesome activities, if we can just take the time to observe them.
It goes without saying that invertebrates are one of the gardener's best friends – even when they are incredibly annoying and loathsome, like aphids. Yet even aphids have a place in the garden, providing sustenance for birds and even helping indicate when a plant is weakened or over-fertilized.
Invertebrates are also a bit like the canaries of the coal mine on Planet Earth – the decline and disappearance of many species, including the beleaguered honeybees of North America, is telling us something about our stewardship of the Earth we inhabit. (As could be seen in the film Queen of the Sun, which recently played at the Hollywood Theater.) We have much to learn still about the long-term effects of our rampant use of chemicals and our lack of stewardship of farmland in recent decades.
Dig in here to learn more about their pollinator conservation program – only one of many things they do. And here to see lists of garden and native plants that will help support important pollinating insects. Or just poke around on their website, starting here.
Here is what to click upon to order the $15 calendar, all of which money will directly support the conservation work of the Xerces Society.