things to do
Fall Planting Season
Time For Sweet Deals on Great Plants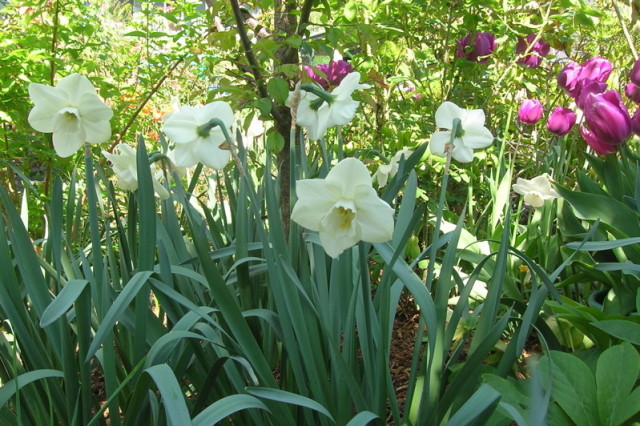 It may look like the gardening season is winding down but… it isn't, really! We are in the midst of the fall planting season: the best time of the year to plant bulbs like tulips and crocus, of course, but also all variety of woody plants (shrubs like manzanita and hydrangea, trees such as crepe myrtle and vines like jasmine) and cold-hardy perennial plants like aster, penstemon and toad lily.
All that to say… it's a fine time to frequent your local nursery and get sweet deals on plants. Most nurseries put plants on sale in fall because they want to minimize the number of pots they have to schlep in and out of greenhouses. (The plants may be hardy in the ground but, without the insulation of the soil, potted plants are vulnerable to cold weather – thus the need to sell them off!) So it's in their interest to sell them before the winter – and it's in yours to buy them – not only because they're on sale but because fall really is a brilliant time to plant. The soil is still warm from the summer so plants' roots develop but there's plenty of rain (so no risk of drought stress – new plants' worst enemy).
So there you have it: it's an intelligent time to shop.
First, try your favorite local nursery. Many have sales tables with heavily marked down plants that look tatty because, well, it's fall. Then, some retail nurseries have sales on, say, all perennials (20 or 30 percent off) or all herbs or… whatever. Keep in mind that all the new "merchandise" that's flooding in probably not discounted. It's prime time for cheery pansies and violas, winter-flowering hellebores, beautiful conifers and other winter interest plants. But the selection is great. And that's important, too.
If you're looking for bulbs, they start going on sale about now – or soon. But the longer you wait, the leaner your choices. It's worth buying the bulbs you want and getting them in the ground lickety-split.
This just in: as of today, bulbs are 25% off at Garden Fever Nursery, 3433 NE 24th Ave., Portland, OR 97212 Phone: (503) 287-3200.
Here's a sale at one of my favorite local specialty nurseries that I'll be checking out:
The Bovees Nursery
1737 SW Coronado
Portland, Or 97219
Tel: (503) 244-9341
They're holding a fall sale starting this Saturday, Oct. 30th from 9 am to 5 pm daily.
I don't know exactly which plants are on sale but they carry some real treasures – woodland plants like unusual little Vaccinium species, Ourisia, and cute little alpines that are rare in the trade. They also have Azara (several species) and other even more unusual evergreen trees and very special rhododendrons – the kinds with fuzzy leaves and unusually-shaped flowers that make you realize that Rhododendrons are cool, after all.
First, 30% off all rock garden and woodland plants, as well as rhododendrons and azaleas from their regular list will be on sale in the front sales area. This sale lasts through Thanksgiving.
Second, they're holding a clearance sale, with really low prices on orange-tagged items; mostly quality older plants. As a side note, they apparently have a lot of dwarf boxwood plants, if you're thinking of starting some chicken-shaped topiary…
If you're a fan or collector of tropical Vireya rhododendrons, some of these will be on clearance and some 30% off. If you've never seen them – they are tender in our climate but have the most spectacular, luminescent, brilliantly-colored flowers – you should definitely see them. They Bovees are practically the only folks in Portland to grow them (most of their Vireya business in mail-order) but they can make great indoor plants…