Article
Day of the Dead
flowers for the departed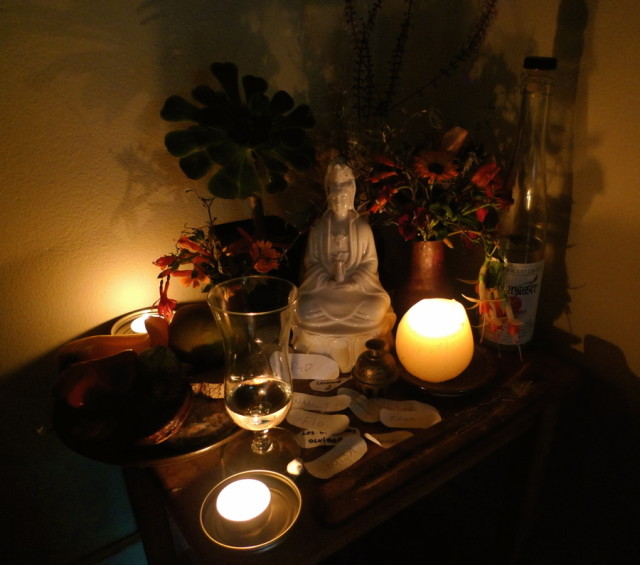 Every year in late October/early November, I arrange an altar for the Day of the Dead (Dia de los Muertos). While the altar is just one part of a many-dimensioned, complex Mexican cultural and religious tradition, it's a beautiful thing anyone can do to honor loved ones who have died. Even if you are not religious or of Mexican heritage, you can find meaning in a ritual like this, whether your altar is modest or over-the-top florid and bright. For me, any ritual involving flowers and plants is one that I can connect with.
I discovered the tradition after sharing it with friends in 2002. A few years later, I made the tradition my own when I needed to honor a friend who had died. The flower-festooned, altar-making tradition provided me with a meaningful way to absorb the death of a friend who had contributed so much to my understanding of plants. While I have experienced other losses since then, my altars always include a special floral acknowledgment to him.
Flowers – especially the marigold – play a big role in traditional Day of the Dead celebration. Marigolds are wonderful to use for wreaths and for stacking because they hold up even when they are out of water for days. While I sometimes (er, like this year) forget to plant real marigolds (Tagetes) in spring, I always find something good to use for my own idiosyncratic experience of the day. Some years, I have time to devote to the altar; other years, I keep it small.
I love to use bright orange and purple flowers for the altar so I start by heading straight for the pot marigolds (Calendula ) for the backbone of the bouquets. I add fuchsias for their bright colors and "weeping" flowers. I forage the garden for roses in bud, flower and hip, as a reminder of the complete cycle of life, including the inevitability of death. (It's not morbid – it's just something gardeners come face-to-face with on a daily basis!) California fuchsia (Zauschneria , now Epilobium ) is always lovely, with its hot orange, tubular flowers. This year, I added twisted, black Corokia cotoneaster branches, which look kind of dead but are actually alive. I add any other flowers or plant parts that I associate with the deceased, as well as dried flowers.
Day of the Dead traditionally takes place over a series of days – from the end of October to Nov 2. See this article in The Guardian for a brief, interesting discussion of it.