book review
Sugar Snaps & Strawberries: Simple Solutions for Creating Your Own Small-Space Edible Garden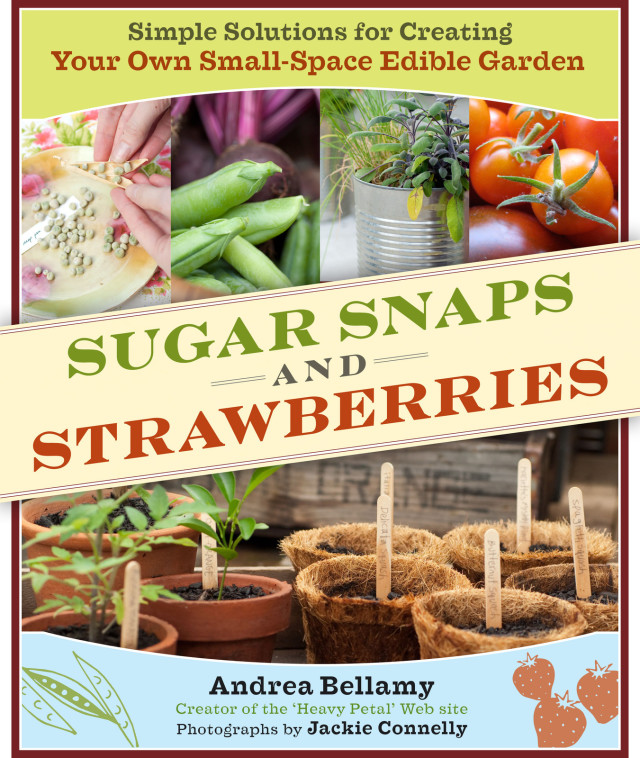 If you're looking for a stylish yet substantial introduction to growing edibles in small spaces, you're in luck: the perfect book has arrived. Sugar Snaps & Strawberries would make a fantastic gift for a brand-new gardener launching into his or her first garden, as well as for anyone seeking for inspiration and ideas to help them garden in a smaller space or wanting to maximize the space they have.
And while the book seems well-aimed toward the younger set, with delicious and enticing photos, beautiful production, smaller fonts (grammy here says, keep your reading glasses close!) and the author's own quirky descriptions ("Heirloom vegetables… are often incredibly flavorful and weirdly beautiful"), it is in fact a thoroughly grown-up and sophisticated book. I was thrilled to discover that author Andrea Bellamy is serious about soil – and digs in clearly, concisely and understandably to some of the most important issues beginning gardeners face, including soil-building and compost, soil microorganisms, potting blends for containers, crop rotation and other sometimes neglected or sticky-to-explain topics.
I like her voice: it's sparkly, bright, and experienced – like a best friend who happens to be a kick-ass gardener, explaining the important issues, practices and techniques to you as you move through the seasons. (Read more of her writing on her Vancouver, BC-based gardening blog, Heavy Petal.) I was impressed with her light-handed but meaningful coverage of some of the political issues involved in gardening: the politics of peat, open pollinated seed, and guerrilla gardening, for instance. The book's ten chapters address topics including style; finding, assessing and building your space; planning and planting; maintenance; growing techniques including succession planting, interplanting and winter gardening; and harvest and propagation. Basically, that's all the stuff you need to know to create and maintain a productive organic garden from absolutely nothing.
The book is intended for gardeners in any temperate climate but since the author is from Vancouver, BC – a similar climate to ours – her suggestions and ideas are spot-on perfect for our region. (It's great to see her weeds… they are identical to the weeds growing in my own Portland, OR back garden.)
As mentioned before, the book's design is super-spiffy and photographer Jackie Connelly has beautiful captured the beauty and fecundity of the vegetable and fruit plot. And the creative, stylish containers and small-space gardens presented are inspiring even to me, and I have a back yard!
Sugar Snaps and Strawberries: Simple Solutions for Creating Your Own Small-Space Edible Garden is due out December 15. Timber Press will notify you when the books arrive if you click here.