favorite plants
Great Plants for Winter Pizzazz
there's more to winter interest than pretty flowers!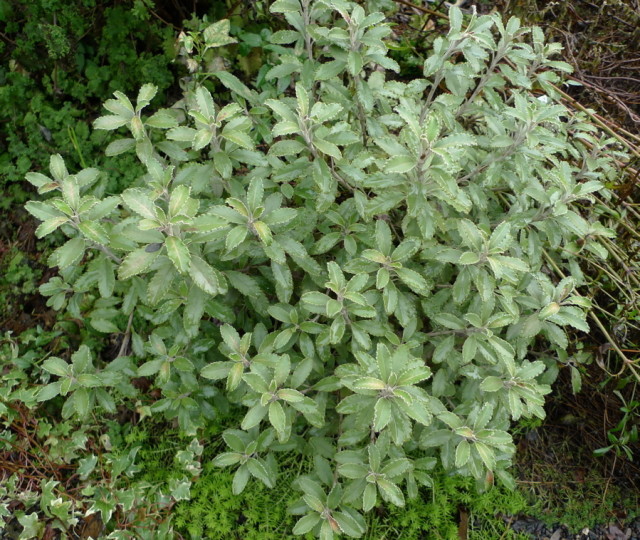 When I say, "great plants," I mean "great plants in my garden… right now." There are countless best and most wonderful winter-interest plants listed in gardening books, magazines and on line. I too have rafts of personal favorites.
But right now, these three extraordinary winter-interest plants are so eye-catching, it's hard to focus on anything else. Next month, my favorites will surely change, as other plants come into flower, or develop exciting, rich stem colors, or as plain green foliage develops burgundy or violet hues as winter casts its frosty spell. But right now, these three plants are shining like beacons just outside my windows, through the dim light, clouds and rain of December.
I should add that they toughed out some extremely cold temperatures last month with no damage. While Daphne odora , New Zealand flax (Phormium sp.) and some purple-flowered Hebe dropped leaves or just melted into oblivion, these three gems remained nearly flawless.
So here goes: my top three plants for mid-December, 2010:
A Classy, Evergreen Stalwart: Olearea monroi
This tough, cold-hardy evergreen shrub has silvery foliage whose stems retain a lovely, smoky lavender tint in the winter. Leaves are beautifully scalloped, with white, lightly furry undersides. Mine has never flowered after four years, as I rarely supply summer water, but if it did flower, they would be acid yellow daisy-like blossoms, appearing in mid-summer. The plant reaches about 2+ feet tall and usually grows a bit wider than tall. It's a subtle beauty but one that looks so lovely in winter!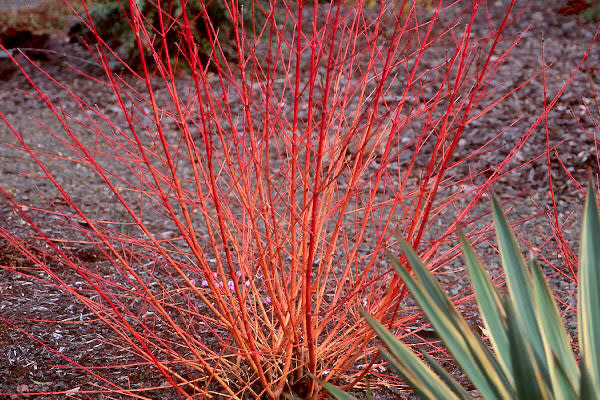 A Burst of Glowing Orange Stems: Cornus sericea 'Midwinter Fire'
This is a fairly common plant, particularly since it's a selection of the PNW native red-twigged dogwood and is very easy to propagate. Common or not, this plant is stunning and deserves a place in any garden. Adaptable to sun or shade and wet to somewhat dry soil, this plant's flowers are even butterfly-friendly. It can be allowed to reach 8-12 feet tall and wide, grown as a tree or stooled (cut to the base) every March to limit its size. The yellow fall foliage is so pretty – but the very best quality of this deciduous shrub is the bright, glowing orange stems: butter yellow at the base, turning to hot coral and firecracker reddish orange at the tips. Wow!
A Ray of Sunshine: Mahonia x media 'Midwinter Sun'
This plant has everything going for it: an elegant, architectural look, evergreen toughness, some drought tolerance, adaptability to substantial sun or shade, and – best of all – large sprays of the brightest, sunniest yellow flowers imaginable, appearing from late November through January. These sweetly fragrant yellow flowers are hummingbird magnets that reliably supply nectar for months. The plants can reach 12+ feet tall and wide and can be pruned up or left furnished with leaves to the base. In summer, powdery blue fruit form, which are soon consumed by birds.