things to do
Free Days at the Lan Su Chinese Garden
January 2nd to 9th, 2011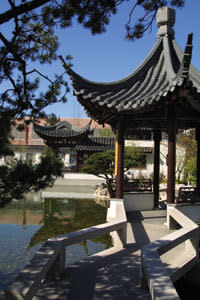 Eight Free Days at Lan Su Chinese Garden – from January 2nd to January 9th, 2011.
To kick off a new year full of events, Lan Su Chinese Garden is offering free admission from January 2nd to 9th – you could visit every day and bring friends and family.
See a display of Chinese folk art, enjoy tea in the Tao of Tea teahouse or simply wander through the most important part of the garden: the exquisite plantings of rare and unusual plants. Some of the first winter-flowering plants may be just beginning to crack open – with any luck, you may see the exquisite, pearly pink buds of Camellia transnokoensis unfolding. There should also be Camellia sasanqua cultivars, with their delicate, fresh, sweet fragrance. Perhaps the warmth of the concrete walls will have pushed out some other early flowers.
In February will be the Chinese New Year, celebrating the beginning of the Year of the Rabbit, starting February 3, 2011. If you're into bunnies, there will apparently be many bunny-themed gifts in the gift shop.