Q&A
Q&A with author Andrea Bellamy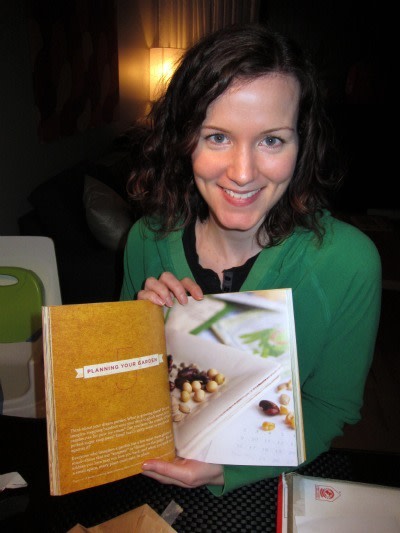 I really enjoyed Andrea Bellamy's book, Sugar Snaps and Strawberries on growing edibles and, quite frankly, after reviewing her book , I wanted to meet her. (Of course, by "meet," I mean "exchange emails"!) Turns out she's affable, experimental in her approach and has some interesting things to say about her gardening background and about gardening in general. Here's our Q&A:
KB: How did you learn to garden?
AB: Gardening was just part of my upbringing. I come from a long line of gardeners (and farmers before that). But my most immediate teacher was my mom, who is an avid gardener. She would tempt me into the garden with entreaties to feel the softness of the lamb's ear or to smell the newly opened buds of the mock orange… then, before I realized it, she had me weeding or raking leaves. And I didn't really mind; I was very much an outdoorsy kid, and I loved getting my hands dirty. As we worked, my mom would talk about the benefits of composting, for example, or about the plants we were working near. I guess some of it sunk in! I still ask her for gardening advice all the time.
KB: What error/s did you make early on in your edible gardening efforts that you wish someone had taught you right off the bat?
AB: I've made so many mistakes! And I continue to make new ones. That's kind of my way; I really do follow the trial-and-error method of gardening. One of my earliest errors was to starve my soil of organic matter (compost, leaf mulch, or manure, for example). I was scrupulous in my use of organic supplements like kelp meal or fish fertilizer, but didn't realize that these products, however nutrient-rich, couldn't make up for the additional benefits (such as the introduction of beneficial microorganisms and improved soil structure) supplied by good old compost. I wish someone had told me that soil should be alive, and that keeping it alive and thriving was my main task as a gardener.
KB: What edibles are you most excited about growing this coming year?
AB: I'm really looking forward to introducing some fruit to my patio. I haven't decided whether that will be via an espaliered multi-grafted apple tree against the fence or a grapevine-covered arbor, but either way, there will be fruit!
I'm also excited about growing wheat, which I plan to sow guerrilla-style on a city-owned lot near my community garden. I hope to be able to see it through to harvest so I can turn it into bread.
And finally, I'm looking forward to homegrown snap beans, cucumbers, lettuce, tomatoes and potatoes. I realize they might not be the sexiest of vegetables, but after a winter of store-bought produce, these are the edibles I'll be dying to eat fresh from the garden.
KB: What do you do to get through the winter months when your garden's produce diminishes?
AB: I do love to plan for next year. I spend hours studying different varieties of vegetables, searching for the tomato or bean selection that is going to rock my world. And I love working out my succession-planting calendar, figuring out what to plan where, and when.
I've also gotten into canning and preserving recently, so I've been having fun making jams and jellies, fruit leather, dried tomatoes, and fruit liquors. Just working with fresh local food (even if it's from the farmer's market rather than my garden) brings me joy. And eating it in the depths of winter? Even better.
KB: How's your veg garden looking right now? What are the three hardiest winter veges for you?
AB: Because we were constantly photographing my garden for the book, I worked the soil pretty hard this year and last. So I'm trying to go easy on it this winter. Instead of the usual leeks, garlic, kale, scallions, and spinach (which are probably the hardiest edibles for my area), I'm growing a cover crop this winter. It's a mix of winter rye and Austrian field pea, which should help to restore nutrients and improve the soil structure when I dig it under in the spring.
* * * * * * *
I don't know about you but I

LOVE

hearing about other people's gardens! And of course, a Vancouver, BC gardener's experiences will fairly well parallel our own in Portland, Oregon, since our climates are so similar. (They don't get the Gorge wind but they do get cold winter wind pouring down the Fraser River Valley.)
Ms. Bellamy is obviously a talented gardener, with much to teach all of us about growing edibles, particularly in small spaces. She'll be heading south from her Vancouver, BC home to Portland in the spring some time for book signings and other events. I'll be sure to let you know about it!