book update
Terrarium Craft
- a progress report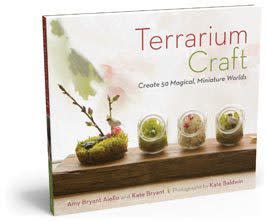 What a thrill! – the book I worked on this past summer and fall with Artemisia's Amy Aiello-Bryant (terrarium-maker) and Kate Baldwin (photographer) now officially has a title and its own lovely little page on the Timber Press website: Terrarium Craft: Create 50 Magical, Miniature Worlds. If you're interested in our terrarium book, you can sign up to receive a notification once the book is available for sale in May. (Just click on the above link and scroll down the page to the bottom right.) There are also a few sample pages on Scribd.
While Terrarium Craft isn't due out on the shelves until May 15, 2011 (yep, that's six months from now), this is still an exciting moment – this is the point at which the work for the book basically moves from the editorial and art departments over to the desks of the marketing people, who are going to be focusing on getting the word out to prospective buyers.
And my job isn't done yet, either: I'm spending a romantic weekend holed up with the galleys, looking for typos, funky captions, typographic oddities and any other peculiarities. So far, so good!