books on sale
Amazing Discount on Gardening Books
Timber Press opens 40% Family & Friends discount to Plantwise readers through Dec 14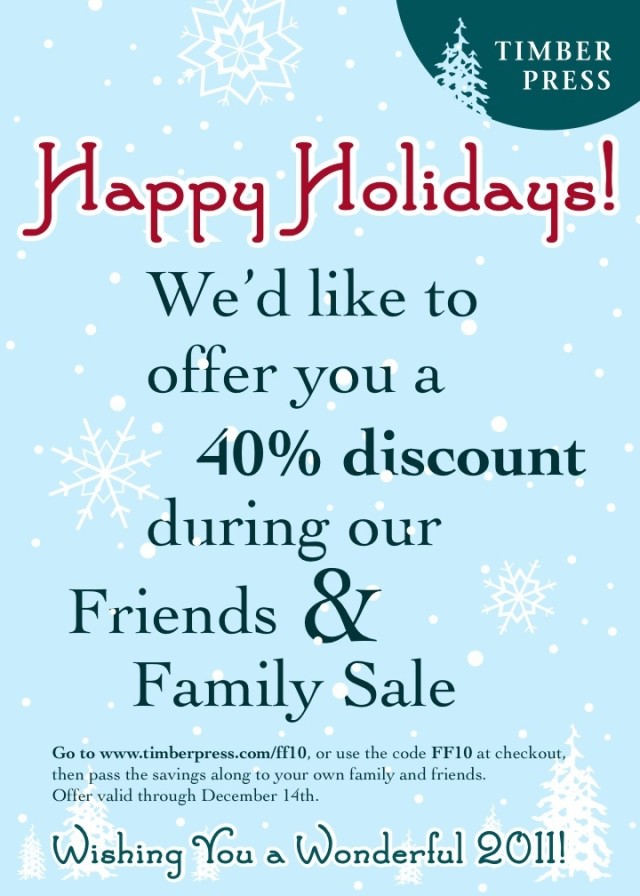 I got an email from social media coordinator Chani West-Foyle at Timber Press this morning. Timber is publishing my terrarium book collaboration with Amy Bryant-Aiello of Artemisia. Apparently, they offer authors a 40% "Friends & Family" discount to authors – which I can pass it on to you. Sweet!
If you go to the Timber Press website, you'll see they offer the general public a 30% discount, which is also very nice. But this is 40% off, which is even nicer. This discount runs until Dec 14, 2010. Go here, or use the code FF10 at checkout.
In the past, Timber Press almost exclusively published monographs on a particular plant genus (like, say, Saxifraga or Cyclamen). Now an imprint of Workman, along with Storey and a few other specialty publishers, they have since opened up to a more diverse range of offerings. Now you can find books on gardening, horticulture, botany, natural history, and the Pacific Northwest. Although I'm partial to the incredible horticultural offerings, I've recently seen a tempting-looking book on vegetarian cooking and another on sourcing the best food at Pacific Northwest farmers markets. It's well worth poking around on the website. Good luck! And happy holidays!