good stuff
Wanted: One Organically-Grown Christmas Tree
Some growers are already using sustainable practices. Now we just need to see the certification process start!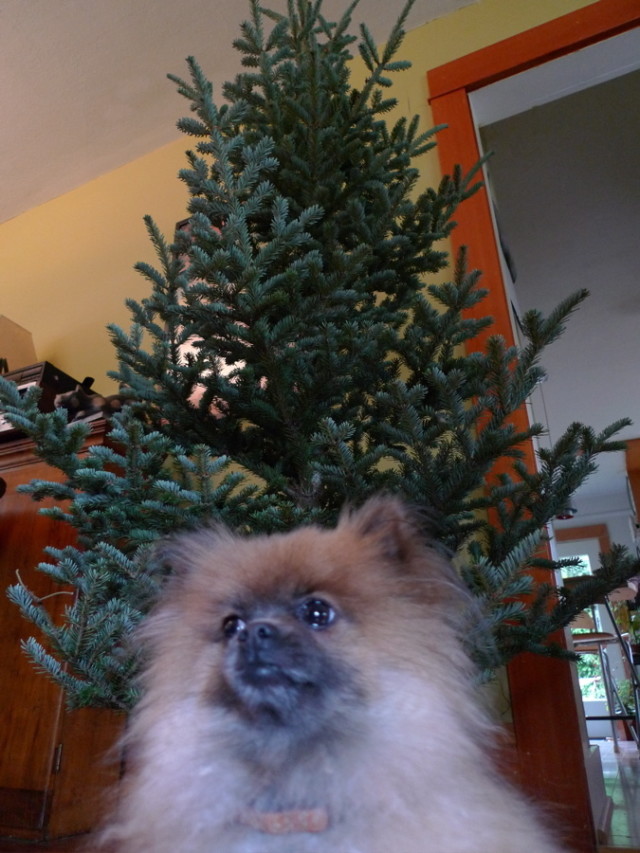 If you're seeking a cut tree, there's some great information on handling and maintaining the freshness of your tree in this article I wrote last winter. It also addresses how to deal with cut trees after the holidays, what kind of living Christmas tree to look for, and how to care for it.
When I wrote the piece last year, I thought that by this holiday season, it might be possible that organic certification could have become a reality. Not quite … According to Bryan Ostlund of the Pacific Northwest Christmas Tree Association, there are, to the best of his knowledge, no Oregon growers yet who are organically certified. However, Ostlund notes, most growers integrate some measure of IPM (Integrated Pest Management) practices already.
But now, finally, there's a plan to recognize the efforts of growers who already use these practices on their farms and to encourage others to adopt them.
Oregon and Washington Christmas tree farmers are currently working on a new voluntary certification program, the Socially & Environmentally Responsible Farm (SERF) certification, to enable Christmas tree farms to demonstrate their commitment to sound social and environmental management and sustainable practices.
To gain certification, growers will need to address issues such as environmental management, biodiversity, soil conservation, integrated pest management, social health and safety, and consumer relations to receive a SERF seal to display on their trees.
Until this happens – and the pilot program should be beginning in January, with certification possibly beginning as early as next winter (Nov-Dec 2011) – the closest I can come to finding an organic tree is to buy from a grower who self-identifies as using minimal to no chemicals. I found these farms on various websites on line. Until there is a third-party certified Sustainable Christmas Tree resource, these growers may be your best bet:
Victorhill Farm, Beavercreek, OR
Tel: 503-632-6244.
Low-spray farm with u-cut, hand-pruned Douglas fir, blue spruce, grand fir and noble fir. Tree net-baling and tree shaking included at no extra charge. Wreaths available.
Beaverton Holiday U-Cut , Beaverton, OR
Tel: 503-649-9164
Small family farm offering low-spray u-cut Douglas fir with some noble firs. Trees are hand-sheared and pesticide-free. Free apple cider for all tree-goers.
Holscher's , Gresham, OR
Tel: 503-761-1209
Minimizes chemical and pesticide use. U-Pick, we-cut noble fir trees. They also deliver within 15 miles of the farm for $45.
NJ Christmas Tree Farm, Damascus, OR
Tel: 503-658-2766
No herbicide or pesticide spraying. Mostly noble fir.
Natural Nobles Tree Farm (no website)
21888 S Fellows Rd, Estacada, OR 97023
Phone: 503-631-4527 or 503-896-2697
No pesticides used, Christmas trees – you choose and we cut, Also, pre-cut Christmas trees, Christmas wreaths, boughs, garlands, mistletoe, tree shaking provided, trees baled, saws provided.
Deininger Farms , Oregon City, OR
Described as "following organic practices," they are a u or we-cut Christmas tree farm. Doug fir, grands, and nobles, as well as their own jams, jellies and walnuts, all organically grown right here.