Mud Room
Future Flats
A buzzing bike boulevard sprouts ambitious eco-apartments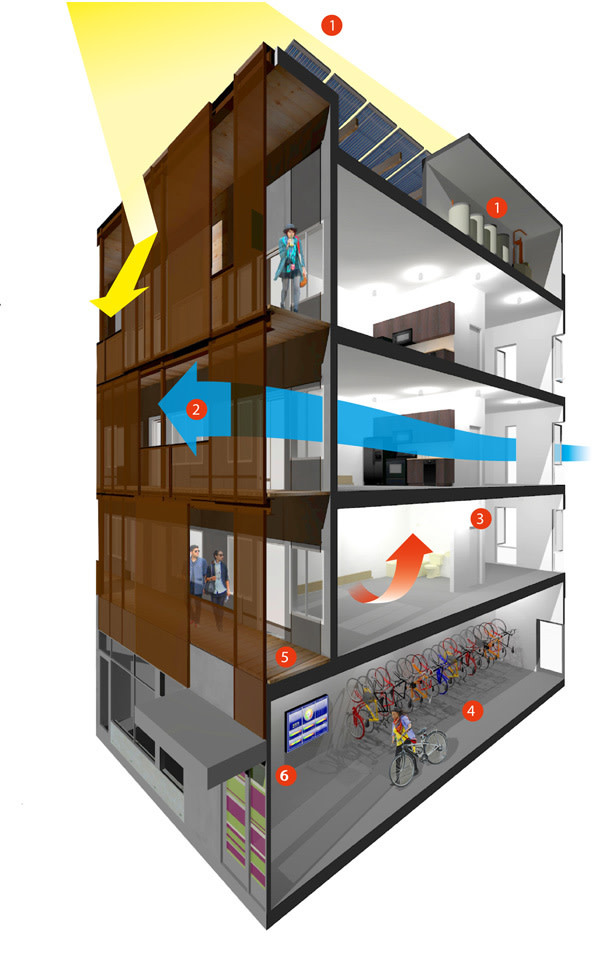 Back in 1997, when young art-school graduate Jean-Pierre Veillet worked out of a studio on N Williams Avenue, the area was so desolate he recalls feeding roaming dogs in the junkyard next door.
Today, that junkyard is home to a new apartment building that could help bring green building to the masses. The ecoFLATS, developed by Veillet's SiteWorks firm with other partners and investors and slated to open March 1, aim to be Portland's first net-zero apartment building. That means meeting residents' power needs through conservation and generation, with the ultimate goal of drawing no wattage from the grid. Built for standard costs (about $3 million total), the ecoFLATS will rent for between $1,000 and $1,200 per month for units of 650 or 750 square feet.
Veillet hopes the design becomes a prototype. "We can spend trillions to rebuild our grid system," the 39-year-old developer says, "or we can make buildings that actually exist off the grid." Here are a few ways the ecoFLATS try to redefine apartment living.
1 Solar power and water conservation
Rooftop solar collectors will heat the ecoFLATS' water supply, while aerators on faucets and showerheads, low-flow toilets, and dishwashers (more efficient than hand-washing!) could cut daily water usage to half the Portland average.
2 No air conditioning
Instead, units feature windows on opposite ends, creating cross-ventilation. Ample sunlight will reduce lighting demand, while a sun screen along the east-side exterior corridors will filter rays to keep units cool.
3 Radiators
Baseboard radiators, made of sleek aluminum and copper, will distribute heat provided by the shared boiler. "This isn't new technology," Veillet says. "It's just much more efficient technology."
4 Bike-centric
With no auto parking, but located on one of the city's busiest bike corridors, the building features ample bike storage and a dedicated maintenance room.
5 Exterior corridors and common areas
Outdoor communal spaces demand no heating and less lighting. Rick Potestio, an architect who collaborated with Veillet on the original concept, borrowed from 17th-century Italian loggias.
6 Peer pressure
A monitor in the lobby will show how much energy each unit is using and how close the whole building is to meeting its net-zero goal.