book review
Energy Wise Landscape Design
The book to have if you're planning landscape changes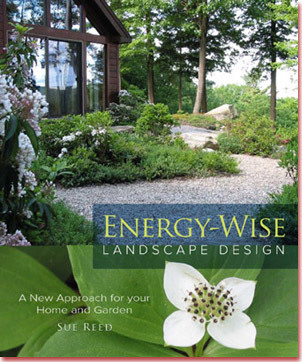 At the turn of the new year, many of us pause to think about what we can do to bring about positive change in our own lives and the world in general.
If you're a gardener or are considering making a new landscape, here is a great place to start: Energy-Wise Landscape Design: A New Approach For Your Home and Garden.
This book is an inspiration and a hands-on manual for creating seriously sustainable landscapes, from the ground-up. It should be required for anyone building a brand-new home or landscape. But it's great reading, too, for anyone interested in understanding the complex elements involved in good landscape design or who simply wishes to evaluate the energy efficiency of an existing landscape.
The book is organized into seven sections addressing how to arrange the landscape to make houses more comfortable in both summer and winter; energy-efficient plant and design ideas; sustainable care and maintenance; methods for generating energy on a small (residential) scale; and energy-efficient lighting. Appendices include all kinds of handy, boy scout-useful calculations for such matters as reading a solar path diagram and determining slope. Plant lists are a bit limited by Pacific Northwest standards (we can grow so much here!), although she advocates researching and using plants native to your own area.
I was particularly glad to see the author's descriptions of such basics as how the sun's seasonal movements and the effects of wind, altitude and humidity should influence our landscaping choices. These are important elements to take into account when making a garden, and they can be difficult to grasp if you've never really thought about them before. This book makes these matters accessible to lay readers. It also clarifies issues like shopping for plants and materials in the most sustainable way.
Energy-Wise Landscape Design has an abundance of clear and detailed diagrams, line drawings and black and white photos of landscapes and plantings that help illustrate the themes discussed in the chapters. If I have any complaint about the book, it's that some of the photos are a bit small. But even if you can't see every detail in every image, they still illustrate the concepts well.
This book fills an important gap in the gardening and landscaping literature and is brimming with fantastic ideas and inspiration for professionals and home-owners alike.