plant of the week
Cyclamen coum
the Marilyn Monroe of late winter flowers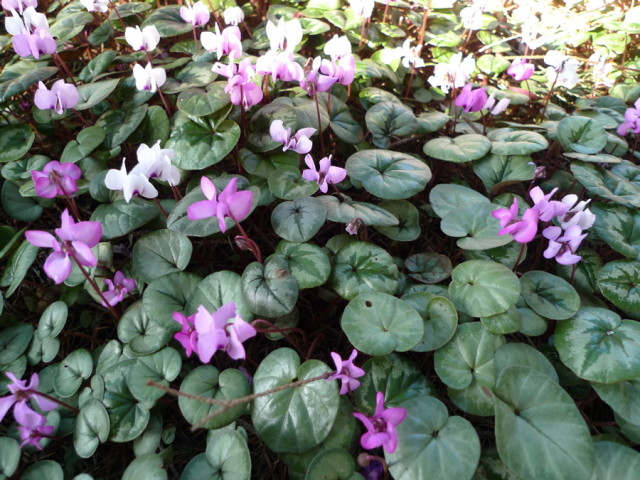 It may seem weird to liken Cyclamen coum – a diminutive 2-inch tall flowering plant rising from a warty brown tuber – to blonde bombshell Marilyn Monroe but if you would just lie down on your stomach in the garden in February and peer into those tiny flowers (perhaps a hand lens or pair of glasses will help), I'm absolutely certain you'll agree!
Cyclamen coum starts flowering in December most years but the show really starts in February, at which time a flurry of magenta, pink or white flowers almost completely overwhelms the foliage. The foliage, by the way, is drop-dead gorgeous, although it's in a more elegant, Katharine Hepburn way, with svelte, heart-shaped or rounded green, pewter or marbled leaves.
For those who like to nerd out on this sort of thing, the species is mainly native to the Black Sea area, from Bulgaria through northern Turkey to the Causasus and Crimea, with a separate population (another subspecies) near the Mediterranean, from Turkey through Lebanon to northern Israel.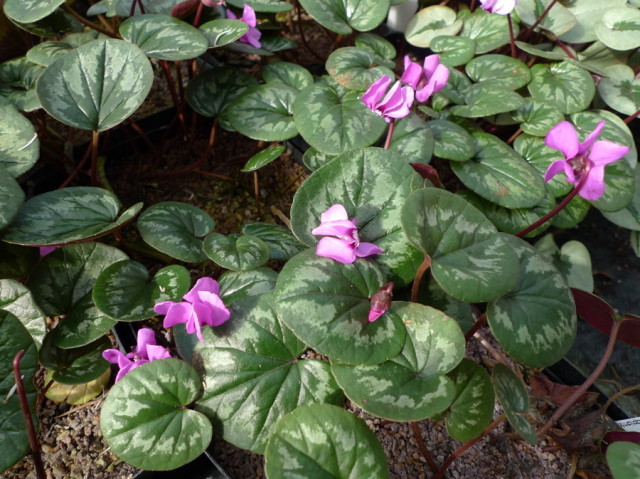 Cyclamen coum is a summer-dormant plant, which means the tubers rest in summer. At the onset of the autumn rains, the leaves reappear, (followed, of course, by those stunning flowers all through the winter). By the time the summer weather comes, the leaves are dying down again. For this reason, I like to plant Cyclamen coum amongst very low, loosely-growing ground cover plants like purple Acaena , Irish moss, creeping thyme, or little clumps of mondo grass (Ophiopogon ). You can plant it amidst low or sparse lawn grass and moss, too, as long as the plants receive at least part sun and the soil is reasonably well-drained. Just avoid mowing the clumps until those leaves have died down in summer.
It's an easy plant that is incredibly well adapted to our region's summer drought, as it requires – even prefers – no supplemental summer water. At Honeyhill Farm, sheets of Cyclamen coum carpet the ground below tall, limbed-up fir trees – oft-considered difficult conditions for growing plants.
The white and pale pink forms nicely compliment other delicately colored spring flowers like snowdrops and pale blue crocus, and look great around shrubs like Sarcococca and softly toned rhododendrons and sasanqua camellias. And the intense magenta and pink forms look particularly sharp with green or black-flowered hellebores and black mondo grass, providing a bombshell of color in the cold rainy days of late winter, when we can really use some sparkle.