weekend events
Planting Trees by Bike
another great idea, brought to you by Friends of Trees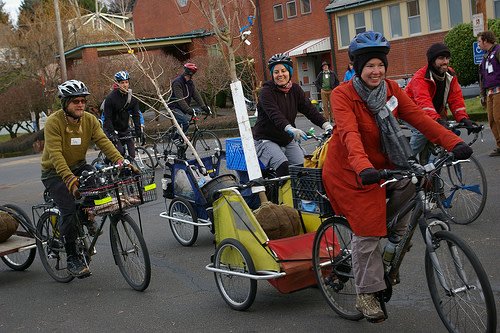 Thank you, Friends of Trees, for another great idea.
Friends of Trees' neighborhood tree-planting volunteers can now pedal and plant, thus keeping warm and helping to improve our urban environment.
Sign up on line to volunteer – if you have a bike trailer, volunteer to help carry tools or trees. No trailer? Hoist a few tools in your backpack. Or just show up and help plant. Last year's volunteers had a blast and there are several dates to choose from.
Saturday, February 5 in the Piedmont and Woodlawn neighborhoods
o Holy Redeemer Church, 25 North Rosa Parks Way (map) -
Saturday, February 12 in the Boise, Humboldt, Eliot and King neighborhoods
o Friends of Trees office, 3117 NE Martin Luther King Jr Boulevard (map)
For Sat Feb 5, just show up, as there's no time to sign up. For the Feb 12 event, sign up on line here
If you can't make it to either of these events, there should be at least one more Plant By Bike! event in March – check the website for more info .
If you can't ride a bike or don't wanna, you can still volunteer for lots of important tree planting projects this winter and spring. Check out this calendar for more information.
Any questions? Need more information? Contact Andy Meeks (Mon-Fri) at 503-282-8846, ext. 24.
For more information about why and how to plant trees, read this (short version) or this.