plants & politics
Eat Your Vegetables!
and why not grow 'em, too?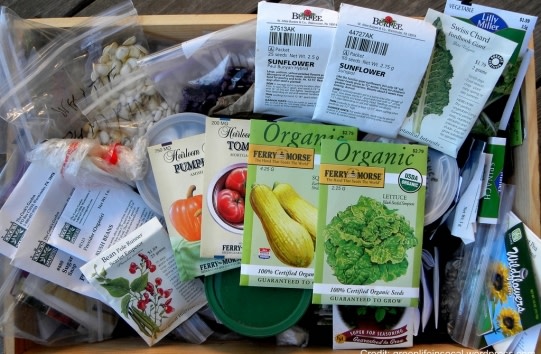 I love this time of the year – the seed catalogs are out, on line and on paper, and it's time to compare tomato varieties, consider how many squash you can fit in, and try a new variety or two of eggplant or pepper. Late February – when the first seeds can be sown indoors – is just a few weeks away.
While musing on the vegetables to plant this year, I came across the Kitchen Gardeners International website, where I learned that America's national snack food lobby is promoting February as National Snack Food Month – an event starting on Superbowl Sunday and lasting through February. So who set this up? From the SFA's own website:
Snack Food Association business membership includes, but is not limited to, manufacturers of potato chips, tortilla chips, cereal snacks, pretzels, popcorn, cheese snacks, snack crackers, meat snacks, pork rinds, snack nuts, party mix, corn snacks, pellet snacks, fruit snacks, snack bars, granola, snack cakes, cookies and various other snacks.
"Pellet snacks"?
Okay, so we all have our moments – I can eat an entire bag of potato chips as fast as anyone else. But isn't there something deeply depressing about an organization devoted to encouraging people to regularly eat large quantities of food that we all know just isn't good for us – and this during the very month when gardeners around the country are planning their summer's home-grown bounty? As with the cigarette lobby, the junk food industry's profitability depends on people maintaining an unhealthy lifestyle. Not like.
I also learned – again from Kitchen Gardeners International – via this article, that on January 31, the USDA came out with the clearest recommendations to date stating that people should seriously cut back on sodium, saturated and trans-fatty acids, calories from solid fats and added sugars and refined grains… while increasing their intake of fresh fruit and vegetables. In fact, the USDA went so far as to say that we should make half of every meal consist of fruits and vegetables.
And that's where the gardening connection comes in: one of the best ways to combat the junk food mentality to eat fresh, nutritious food and learn to grow it yourself. Growing your own food teaches you things you can't learn any other way.
If you love to eat, your delight in food is profoundly enriched by knowing how to grow the food you love in a garden. Learning simple facts about a plant's growth cycles, cultivation requirements, and harvest schedule will help clarify such things as the seasonal appearance and disappearance of certain produce from local menus. Why can't you find tasty, locally grown Brussels sprouts or mache in the heat of August? What fresh, seasonal fruits are available for making tarts in November? Gardeners learn these things from experience and become masters of selecting fresh produce at restaurants and markets for knowing it.
On the other hand, if you "eat to live" rather than "live to eat," growing your own food helps you start to actually enjoy fruit and vegetables because they are meaningfully fresher and tastier than store-bought – and you have a personal relationship with them, as it were.
Not that most Portlanders need convincing, but growing your own organic food is the safest, purest way to get the most delicious food from the ground to your plate. It skirts the issue of contamination by mass production and pesticides of course and helps you understand what seasonal and local really mean – because if you can't grow it, local farmers may not be able to, either!
Whether you want to eat better yourself or help others eat better, growing your own food offers those practical benefits – as well as boosting your mental and physical health. The simple act of digging has an amazingly therapeutic effect on a person whose days are spent in a cubicle or at a desk.
All this sounds wonderful but many people still feel it's outside their ability or they don't have time. Where to begin, if you want to give it a shot? Start small: pick one easy vegetable that you love – maybe radishes, lettuce or zucchini – and grow it in one garden bed or one large pot. Keep it manageable. Start with baby steps!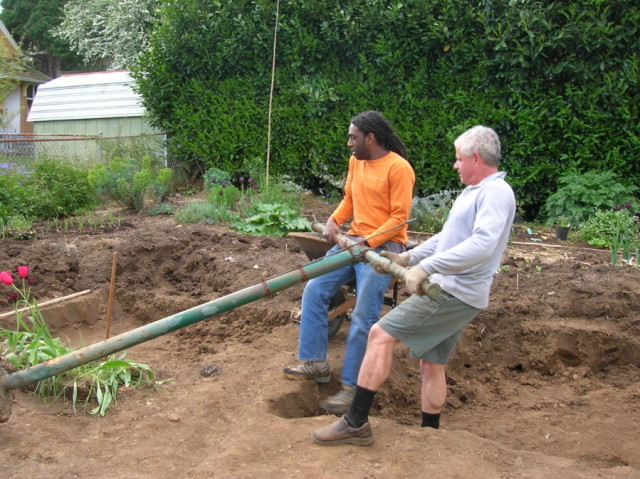 And check out Sugar Snaps and Strawberries – it's great for beginning gardeners or anyone starting with a small space.
Kitchen Gardeners International website is a wonderful resource both for the practical aspects of growing edibles and the national and international politics of growing your own food. And while you're there, check out the KGI's food challenge called #20ate – for the 28 days of February (National Snack Food Month).
And there's lots of interesting USDA food and nutrition information here
Stay tuned – lots more on growing your own food coming up!