plant sale
Hydrangea Heaven
a teaser – you'll have to wait til the next open house for a chance to visit!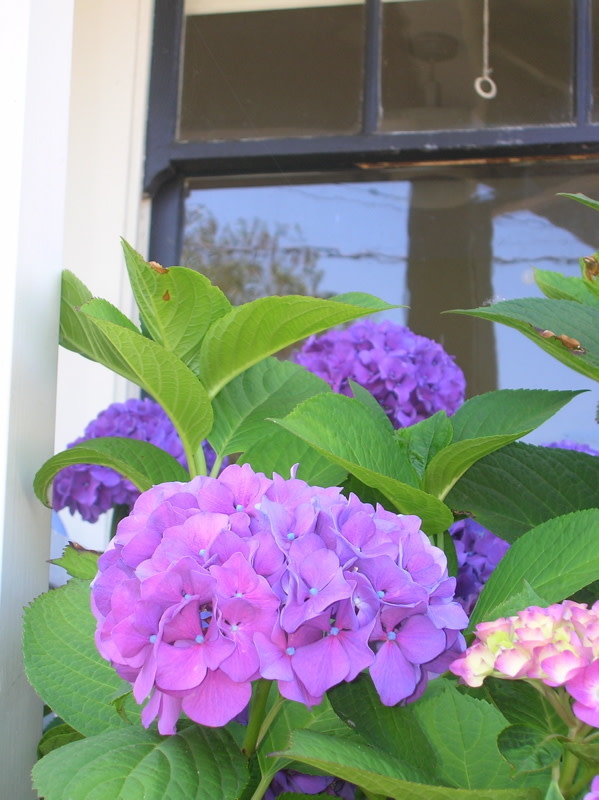 Hydrangeas have a rep for being old-fashioned. Good stuff, in my book, but there's much more to them. Besides, that reputation comes primarily from the "mophead types":, with huge, floppy, Pepto Bismol-pink or powder-blue flowers – not everyone's aesthetic.
But when those big mophead flowers veer towards rich, dark purple, then some hydrangea-haters start to perk up. You hear them say things like, "Well, that one's not so bad…" or "I suppose that might make an interesting bouquet."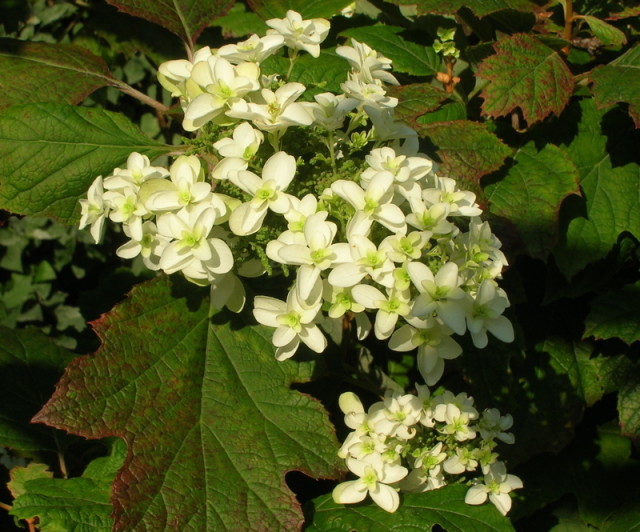 Then they see the tree hydrangeas, with understated cream flowers that work surprisingly well in modern and cottage gardens, and hydrangea-dissers think, "Hm, I could probably work that into my garden… but I'm not a hydrangea-person!"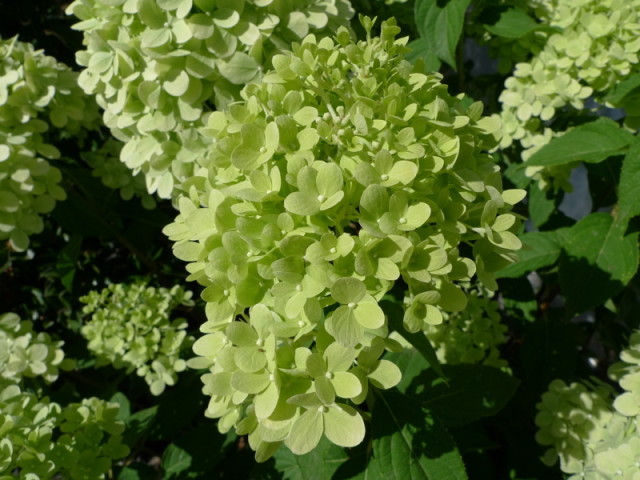 What finally pushes the avant-gardener over the top are the oak-leaf hydrangeas. For me, specifically, it was Hydrangea quercifolia 'Snowflake', a double-flowered variety whose apple green flowers fade to creamy white, then parchment as they dry. In addition to the gorgeous flowers that make the best bouquets ever, these plants have a looser habit that works well in more naturalistic gardens. The big, corrugated leaves are beautifully bold, turning bright red in fall, and the peeling, tan bark adds to the visual interest in winter. Best of all, oak leaf hydrangeas are easy-peasy to grow. They're moderately tolerant of dryish soils, do well in medium to bright shade or a half-day's sun, and the flowers last for months.
Now, I keep an eye out always for interesting new hydrangeas and their close relatives like Dichroa febrifuga (a semi-evergreen hydrangea relative) or hydrangeas with especially interesting foliage, habit or blossoms.
Last week, I took a trip out to Hydrangeas Plus, a hydrangea wholesale nursery. The nursery is a wholesale outfit but a couple of times a year, they open up for retail sales and you can wander through the greenhouses and check out a vast array of varieties, from the old-fashioned mophead and lacecaps to species like Hydrangea paniculata, Hydrangea arborescens, Hydrangea quercifolia, the climbing hydrangeas including the evergreen H. seemanii, and all the H. aspera types, with interesting, thickly felted leaves and – usually – lavender lace-cap flowers.
During my visit, Kristin showed me some hydrangeas I'd never seen: new hybrids with burgundy leaves like Hydrangea serrata 'Kiyosumi', H. 'Sabrina', H. 'Sol', and H. 'Stella', some of which hold on to the dark foliage through the growing season, ending in a finale of bright red fall color. She also sells the luscious new Proven Winners variety, H. paniculata 'Limelight', with long-lasting panicles of green flowers that fade to soft white and eventually dark rosy-parchment pink – so very pretty! And she told me about new varieties to look for next year (not available yet!) – there are a lot of smaller varieties in the works now – not only Hydrangea paniculata 'Little Lime' , a dwarf Limelight, but also a series of other petite hybrids that will allow hydrangea lovers (newly-converted or not) to enjoy big hydrangea flowers in smaller garden spaces. More on that this fall.
While the nursery is a wholesale-only business, they do open their doors to the public a few times a year, including April 23 to May 7, 2011 (overstock sale) and again, around Labor Day weekend in the fall, when plants are 30% off retail prices. Their hydrangeas are sold in three sizes: one year (in 4-inch pots); two year (in one gallon pots); and three year (in two gallon pots).
Hydrangeas Plus plants will also be available at Gardenpalooza, taking place April 2nd at Fir Point Farms in Aurora.
For more information about hydrangeas, read this for a plethora of cultural tips, including information about hydrangea bloom color. This is a good explanation for the color variability in mophead hydrangeas (H. macrophylla), from blue to pink to that elusive rich dark purple color that so many seek but can't always figure out how to chemically induce.