Made in PDX
Modernist Cabinet
Mix mid-century cool with the mellow mood of a turntable, and you've got the smooth look of the Console Cabinet by local company Von Tundra.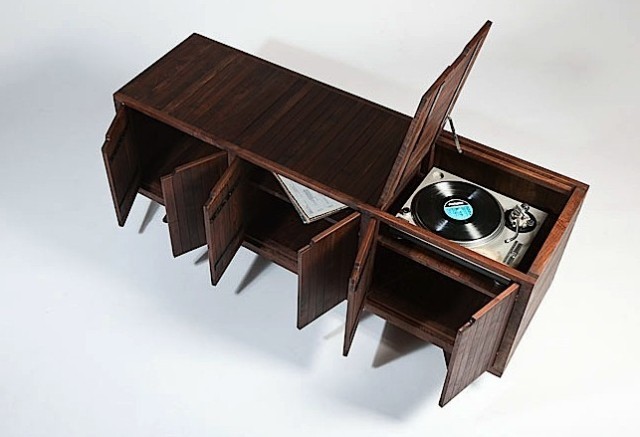 For many true music aficionados, there's something about a turntable that just can't be replicated digitally. CDs are necessary, of course, and streaming music tools are handy, but there's just something nicely nostalgic about cuddling up around a roaring fire with the scratchy sounds of Billie Holliday crooning on a record in the background.
Von Tundra recognized that need—and Portlanders' love of good music—and created the Console Cabinet. Solidly built, it's made out of black walnut (in the case of the piece shown, it's from a tree in someone's yard in Troutdale), and there are no pieces of plywood in the cabinet as are commonly found in furniture these days. Yet the form belies its hefty construction. Streamlined, modern, and pretty sleek, seemingly floating on four angled legs, it's a good-looking take on the traditional media cabinet.
Should you have sold your records long ago at garage sales, however, in favor of newer stereo systems, don't worry. As Dan Anderson of Von Tundra makes clear, this piece will meet everyone's needs, whether they're record-bound or high-tech. "We wanted to make a nicely proportioned case piece that could hold its ground underneath a wall-mounted flat screen and house the components as a more streamlined version of conventional entertainment centers."
The Cabinet retails for $6,800, is made to order, and ships in 6-8 weeks. Available in black walnut or reclaimed wood. Measures 25.5" high by 21" wide by 69" long.