things to do
KXL Plant Nerd Night 2011
five wonderful local retail and wholesale nurseries, plus Far Reaches Farm from Port Townsend, WA – not to be missed!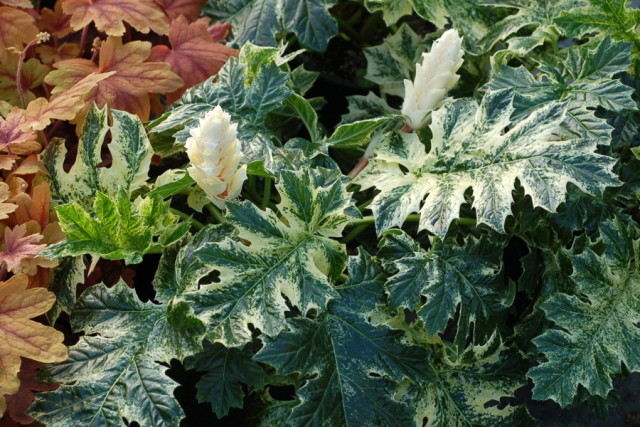 Plant Nerd Night is an event that represents the best of our local gardening scene's energy. Now in its tenth season, this event is organized by charming radio host and plant expert Mike Darcy and sponsored by KXL Radio, where Mike does his magic every Saturday morning from 9 am to noon during his program In The Garden With Mike Darcy.
Nerd Night gathers six excellent local nurseries whose owners have just twelve minutes each to present brief, energetic, and rousing presentations on their hottest (yet very coolest) plants. Said plants are also available for sale at their tables, which line the room. There's a witty song-and-dance routine performed by the Goddess Flora Chorus and Deadheading Society, which pokes fun at gardening and gardeners in song, and you get to schmooze around with lots of other plant-loving people. The event is free and there are free gifts and great prices on each nursery's special plant-o'-the-evening. (Like, $1 each for Log House's new black petunia, Black Velvet.)
This year's nurseries include unusually fine hostas from Sebright Gardens; wonderful wholesale specialty annuals and, if we're lucky, some of those new grafted tomatoes from Log House; Dancing Oaks Nursery (a favorite source for perennials, woody plants and more); Terra Nova, a wholesaler specializing in perennials like heucheras and anything sassy, sexy and variegated; the inimitable Cistus Design Nursery (one of the world's premier plant nurseries) and, of course, the truly incredible Far Reaches Farms. If I sound like I'm speaking in superlatives, well… yeah. I am, and rightly so!
It's a super-fun scene every year. The presentations always make me think of speed dating (but for plants). In any case, this year, I'm especially excited to see that Far Reaches Farm will be attending. It's their first time at Nerd Night. I will say no more: just go to their website and, as they say, drool. (Eeeeew, gross!)
DETAILS:
WHAT: KXL Plant Nerd Night with Mike Darcy
WHEN: Friday March 18, 2011 – doors open 6 pm; presentations begin at 7 pm
WHERE: Lake Bible Church 4565 Carman Drive, Lake Oswego, OR
COST: free!