get dirty
Rites of Spring
winter is finally o-v-e-r! Time to clean up the debris and start planting!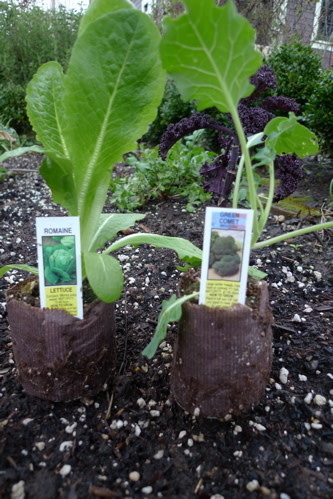 In addition to enjoying the glut of daffodils in flower around town, the days surrounding the first day of spring are perfect for finishing up lingering garden clean-up projects and getting some plants planted. If you haven't gotten around to much gardening lately, here are some great things that you can do right about now.
Clean up last year's dead stems from herbaceous perennial plants. (Herbaceous perennials are those that die down to the ground when dormant, re-sprouting from the base during the growing season. Unlike shrubs, they have no woody framework.) If the dried old stems don't just pull or snap off, just snip them off as close to the base as possible. Today, I snapped off brittle stems of society garlic (Tulbagia), pulled off old lily and iris stems and cut down old Crocosmia stems.
If you haven't already done it, cut back ornamental grasses now. Be careful not to cut out too much of the new green blades emerging through the dead stuff. Some evergreen grasses, such as Helictotrichon sempervirens, are best "combed," not cut. To avoid the dreaded crewcut look, run your hands through the tuft, particularly at the base, pulling dead foliage as you go.
Cut back cold-damaged wood on shrubs. Today, I saw tip damage on a variety of shrubby sages (Salvia greggii), hebes, Olearia macrodonta, Osmanthus fragrans 'Aurantiaca', and flowering maple (Abutilon) in my garden. I cleanly snipped off the dead wood with my newly-sharpened snippers, just down into living wood. Some of my recently-planted cold-hardy hebes looked spindly, too, so I pruned them down to where I saw new growth to encourage them to fill out.
Prune mophead and lacecap hydrangeas. While fall is said to be the best time to prune hydrangeas in our area, I often prune hydrangeas in spring with no ill effects. If growth is congested, thin out 1/3 of oldest branches from the very base (use a small hand-saw to really get in there) and then just tip back each branch to strong buds, which should produce flowers this year.
Refresh established red- or yellow-twigged dogwood (Cornus sanguineum, C. alba) plants. I use a little hand-saw or loppers to remove 1/3-1/4 of the oldest stems, about an inch or three up from the base, as well as removing any spindly or leaning twigs. This helps stimulate lots of fresh new growth from the base which will produce those bright winter stems next December to March.
Plant things. Outdoors, if your soil is dry enough to dig without turning to concrete or mud, you can now plant the cold-hardy vegetables including potatoes, onions, peas, radish, carrots, beets, broccoli, kale, leeks, and herbs like parsley, chives, and rosemary. You can also plant perennial vegetables like rhubarb and asparagus, as well as berry crops like strawberries, raspberries and blackberries, blueberries, and currants. Heck, almost any cold-hardy plants can be planted! Just be careful not to compact your garden soil by standing or walking on it when it's wet. If possible, wait til there have been a couple of relatively dry days. And until about mid-April, hold off on planting dahlias, cannas and other semi-hardy bulbs, corms and tubers. Also, hold off on all tender summer vegetables (consult the Territorial Seed Catalogue if in doubt). And finally, remember that just because it's available at the nursery, doesn't mean it can go outside yet. If in doubt, ask!