get dirty
Have the Sharpest Tools in the Shed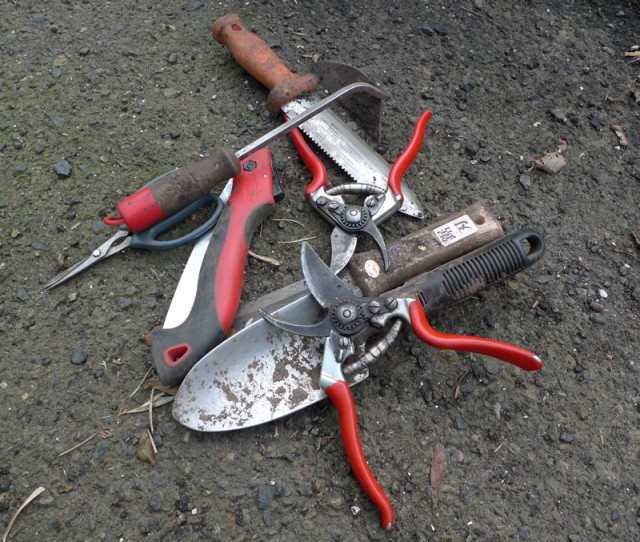 I try to clean and sharpen my gardening tools every winter but sometimes, I am embarrassed to say, I just don't get around to it. When that happens, I chide myself every time I pick up my worn, dull tools. What's so hard about taking just an hour or two out of some Saturday morning to spiff up the tools that I rely on all year?
If you haven't cleaned your garden tools yet – and by the way, neither have I! – then I suggest you give your tools a hose-down and a quick scrub and head over to Livingscape Nursery this Saturday morning to gain the inspiration and know-how to sharpen your hand pruners, hand trowel, loppers and any other hand tools that have grown dull or rusty.
Sure, you could take them to a local sharpener: Garden Fever Nursery at NE Fremont and 24th has a service where you can drop off your tools and they'll be picked up and professionally sharpened for a fee. You can also take them to places like Als Lawnmower Sales & Service at SE Division and 88th where the cost ranges from about $8-15 per tool. But doing it yourself – and for free – has its own benefits. And by learning how to do it yourself, you'll be able to sharpen your own tools year after year, whenever you need to.
WHAT:" A DIY tool-sharping class and demo taught by Isabel LaCourse and Karen Wolfgang of Independence Gardens
*WHEN: Saturday March 12 from 10am – noon
WHERE: Livingscape Nursery – In the basement at 3926 N. Vancouver Avenue (between Shaver and Fremont) 503.248.0104
This class is free class (plus treats!) but an RSVP is required: visit fellow garden blogger Ann Murphy's wonderful blog Random Acts of Gardening to learn more and sign up.
See you there!