get dirty
Tool Maintenance Party
tips and tricks
This past Saturday's tool-sharpening and maintenance class organized by fellow blogger Ann Murphy of the Oregon Association of Nurseries and me was fabulous. It was great to see people both familiar and new there and super-fun to learn how to clean, maintain and sharpen our garden tools from two fine teachers, Isabel LaCourse and Karen Wolfgang of Independence Gardens. Best of all, we all went home with cleaned, oiled, and sharpened clippers, loppers and shovels.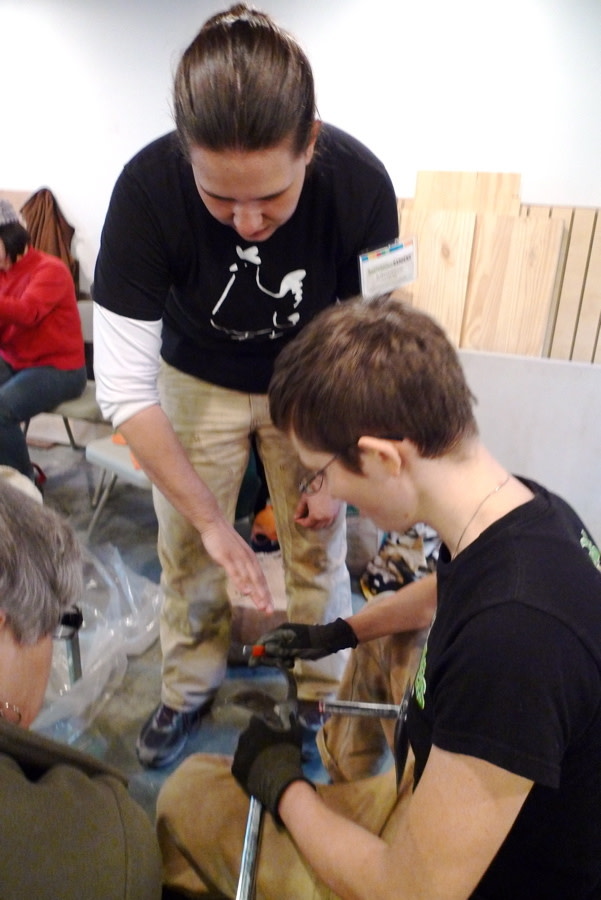 If you didn't make it, let me encourage you to give take on your own tool maintenance at some point this winter or spring. Here's an article outlining materials needed and providing basic written instructions for caring for your garden tools.
Clean, smoothly working and sharp tools makes a big difference when working in the garden. Clean cuts heal better and, for those who eschew weird petrochemicals, we learned about many good ecological alternatives to WD-40 and myriad other old-fashioned toxic standbys.
A couple of other interesting things we learned:
1. New tools like hoes and shovels are often sold dull so they won't injure anyone. You're supposed to sharpen them when you take them home. And there I was, thinking new tools were just crummier than old ones – it didn't occur to me that I needed to sharpen 'em myself!
2. Wooden handles should be oiled annually to keep them smooth and splinter-free. Yeah, splinter-free.
3. Most broken shovels can be repaired – as long as the handle, not the blade itself is broken. I break about one shovel a year so this is good news!
Soon, I'll post some good how-to videos I made of Karen and Isabel providing great instructions on cleaning and sharpening your own garden tools.
Stay tuned!