Made in PDX
Wash Away Springtime Blues With Maak Soap Lab Bars
They haven't quit their day jobs yet, but these young soap crafters come clean with their forest-scented vegan suds.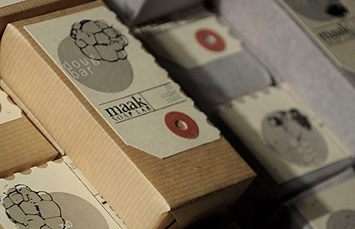 Scents and sensibility are what brought Maak Soap Lab owners, Anoria Gilbert and Taylor Ahlmark, to Portland. They connected to the "artistic, eco-minded personalities of Portland and loved the culture and sense of community." After graduation in 2009, the college pals left Arizona and headed north. With some background in design, making soap seemed a natural way to experiment with craft and handiwork in a city that embraces such endeavors.
Research for the soap project included a range of entrepreneurial artisans, from chocolatiers Mast Brothers in Brooklyn to Strawfoot Handmade leather workers in Northern California. They examined the details and looked for business models they could emulate.
After experimenting on all of their grubby friends, the soap they dreamed of finally evolved. The two agreed: "Soaping became a way to capture everything we love about the city, from scent to spirit. It just made sense." Using the fewest ingredients possible, Gilbert and Ahlmark mix, pour, and cure each and every twenty-bar batch themselves. Doug Bar has fir, cedar, and peppermint for a fresh, wake-up feeling and Sea Bar is best for deep cleansing and exfoliation. Rose City is floral and pretty, "reminiscent of brisk Portland neighborhood strolls." And Clay and Coal Soap "gets you dirty to get you clean, with a strong forest scent." From the rectangular bars to the trace paper packaging and silk-screened tags, everything is made by this squeaky clean Portland couple.
Look for Maak's soaps ($6–8) at local stores like Alder & Co., Tender Loving Empire, Lizard Lounge, and at Maak Soap Lab online.