Desirables
Beautiful Pourover Stand by Clive Coffee
Elevate your java making to an art form with a sculptural pourover stand by Delaney Kelly for Clive Coffee.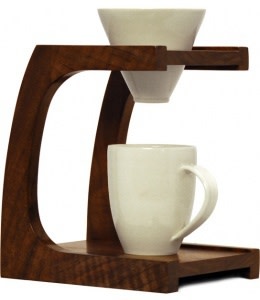 In a town where coffee is an obsession and locals can come to blows which beans are best, it seems just plain sloppy to let the method of production slip. Why spend carefully earned money on beans hand-picked in a sustainable field then micro-roasted in Portland, only to slosh them around in an IKEA French press pot (recently recalled, by the way) churned out by the thousands in a factory somewhere?
Instead, you might consider investing in the pourover stand that Clive Coffee has recently introduced. Designed by local artisan Delaney Kelly of Carthagh Design, Clive Coffee asked him to create a design that beautifully celebrated local style while staying true to its function in form. Ideally, they wanted a piece that looked like fine furnishings—along the lines of what the Eameses or George Nakashima made.
The result is a lovely arcing shape that swoops up nine inches high. Yet with its solid good looks, made of salvaged Oregon walnut otherwise destined to be destroyed, it looks perfectly placed for Portland. The price ($195) may seem a bit steep, but consider that Delaney takes some ten hours to painstakingly handcraft each stand, and you understand why it's not $19.95. Also included in the price is the drip cone made by Pigeon Toe Ceramics, another local business. But perhaps most importantly, the coffee itself is superb. Easy to make (just pour boiling water over coffee through a filter in the cone), it turns out what Mark Hellweg of Clive Coffee calls "a clean, flavorful and full bodied cup equal with French press but without the sediment."
"There are many pourover filter holders on the market," says Hellweg. "We wanted to explore the intersection of design with great coffee, and what better way to do this than to work with a local artisan using locally sourced materials?"