DIY
Cover It All with Wallpaper!
Transform a garage sale find into your favorite new piece of furniture with Makelike's wallpaper.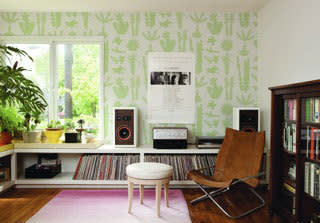 Every time I page through my design rags and home blogs, I find myself imagining every wall of our condo textured in aqua seagrass or transformed into a Grecian temple. My walls are still a boring white Benjamin Moore, but I found a way to get my wallpaper fix in other ways.
Recently, while setting up my new office, I yanked an old ratty table out of storage that we'd scavenged on the street. The curvy metal legs were elegant but the top surface was a mess from the previous owner's art projects. Without spending a lot of money or buying a new table, how could I salvage this Ikea relic? Wallpaper, of course!
The wallpapers from local design firm Makelike feature bold, whimsical imagery hand-screen-printed using water based inks on recyclable paper. There are forest scenes, cacti, and succulents. My plan was to paper the inside of my office door and use the leftover for my desktop.
Not so comfortable with permanence, I took the less committed approach, skipping the gluing process. After measuring my desktop, I called and got the best price on a custom cut 1/4-inch-thick slab of glass. For a tabletop, ask for a seamed edge—you don't need anything fancier or more costly. And the thicker the glass, the more expensive it will be. Precision Glass wanted $55 for a 24-by-48 inch rectangle, which seemed fair. Atlas Glass on SE Hawthorne will do it for $68.00. If it's not too large, Ace Hardware will cut glass to size. Underneath the glass, the paper stays pristine. And, as soon as I tire of it, I can move on to something different. Just like that, I have a new desk! The possibilities are endless: doors, medicine cabinets, rusty old stools, room dividers, a clock face, cardboard storage boxes…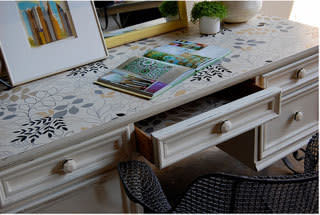 For something more permanent, gluing the paper down and coating it in a water-based polyurethane is the way to go. You have some flexibility with wallpaper glue's slower drying time (in other words, if you make a mistake, you can shift it around if you work quickly). Apply the glue to the tabletop or surface with a small paint roller. Smooth the wallpaper over the surface using your hands and a damp rag, working your way from one end to the other to remove any air bubbles. Take your time! After gluing it down, paint the surface with a few coats of polyurethane. (Do this outside so you don't upset your housemates.)
Tips:
1. Measure the surface area. Fold the edge of paper to mark the size (or use a ruler) and trim with a sharp blade.
2. Order a 1/4-inch-thick or 1/2-inch-thick slab of glass, depending on your budget. (I prefer a thicker piece.)
3. Using a dab of rubber cement on all four corners, affix the paper to your surface. Place the glass over and, voila, you have a new desk or tabletop.
Sources:
makelike.com
vanillawood.com
minimoderns.com