things to do
Plant Salad Greens Now
…and enjoy them forever!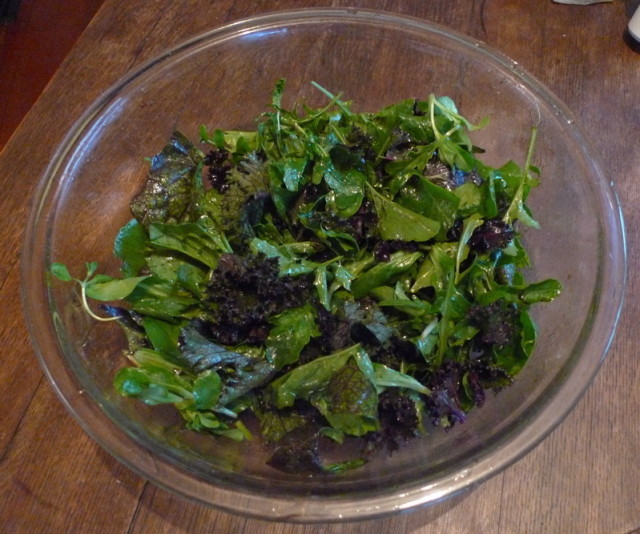 Yes, it's time to plant salad greens… but I have a secret to tell you.
You don't actually have to plant greens every spring to have fantastic salads. In a well-functioning vegetable plot, many delectable and nutritious greens replenish themselves. All you have to do is to let a few plants go to seed in late spring. The plants will develop seeds over the course of the summer and spew them out into your garden in late summer/early fall. They generally rest in the soil until late fall or early winter/spring, at which time they start growing and producing healthy, delicious greens. Your task is to remember not to weed them out or bury them with compost. Of course, your soil needs to be reasonably fertile and healthy. But you already knew that – you've been incorporating compost regularly, right?
The salad pictured above came from my vegetable plot just a couple of days ago. It was the best salad I've had since… well, since last year, when I enjoyed similar salads from late winter through early summer!
Start with easy self-sowing greens like arugula, mustards, mache, wild lettuces, and parsley and you'll be making knock-out salads all spring. You can add tender sprigs of home-grown kale (try the Russian purple type), chard and baby bok choi. And if your plot's on the small side but you eat a lot of salad, you can just use your spicy and interesting greens to doctor up store-bought lettuce salads.
Here's my list of top salad greens that thrive without any help, year after year, in my garden:
Lettuce – choose leaf varieties from Wild Garden Seed or just experiment with heirloom cultivars you like.
Mache (any type)
Mustards – Mizuna and Osaka Purple, which both self-sow abundantly for me but experiment which varieties thrive for you.
Arugula – I especially love the frilly type from Botanical Interests but most arugula self-sow readily
Parsley – I have the best luck with the Moss Curled types but if you love Italian Flat-Leaf, let some go to seed and see what happens!
Chervil – A classic salad herb in the French countryside. Some love it and some don't. See what you think.
For maximum nutrition and sweet, nutty flavor, add some kale or other cruciferous vegetable.
Or buy a spring mix from Wild Garden Seed – most of the varieties included will self-sow.