bookishness
Terrarium Craft: Appearing Soon At Your Local Bookstore…
and it's gorgeous!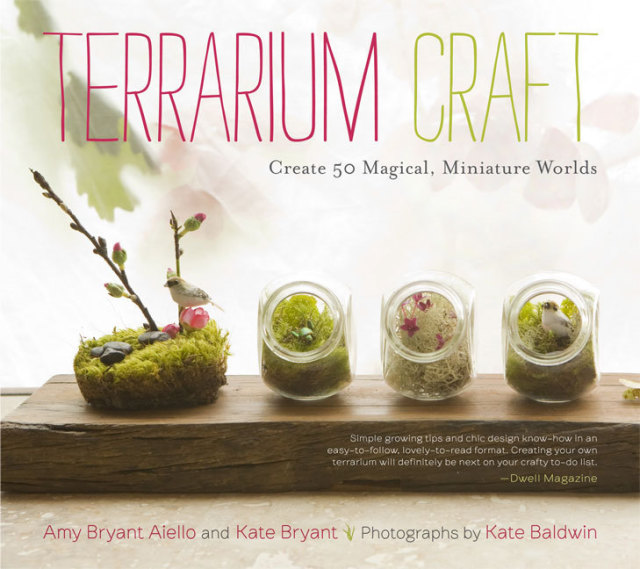 As some of you know, I spent part of last summer writing a book for Timber Press devoted to terrariums. My co-conspirator, Amy Bryant-Aiello (no relation) made the book's 50 fabulous terrariums in her shop, Artemisia and Seattle photographer Kate Baldwin shot the photos.
Earlier this month, the first copies of Terrarium Craft were winging their way to reviewers across North America. These first review copies are important: the publisher sends them out to print and on-line newspaper, magazine and other writers and anyone they think will be interested in the book's topic. Once these first review copies are sent out, we wait… hoping that reviewers enjoy the book and find it useful and inspiring and beautiful… then, in mid-May, the first shipments of Terrarium Craft arrive in warehouses and are distributed to book stores. That's just three weeks from now!
So how is a book like Terrarium Craft created? In our case, it was a lively, fast-paced, and sometimes off-the-cuff collaborative process.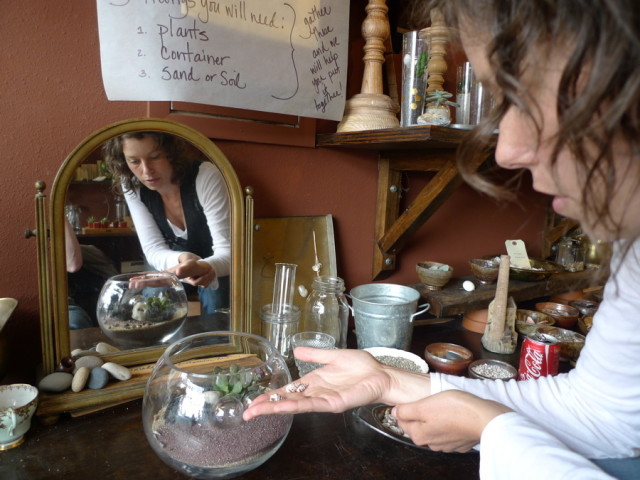 First, Amy made the terrariums. She created them in three big batches at her shop, Artemisia; just a hop, skip and a jump away from my house. Since her shop is so cozy, she had to make them in batches if she had any hopes of navigating her way through the shop!
Photographer Kate Baldwin came down from Seattle and photographed the first batch, even as Amy was putting the finishing touches on some of them (or, in some cases, tearing them apart and re-doing them to her liking – she works like that sometimes!). As a photography session came to a close, Amy would give me a ring and I would prance up the street to the shop so I could sit down with them and describe them before devoted Artemisia customers could fall in love with them and take them home.
Soon after, same thing with the next batch: more terrariums made, photographed, described and sold, making space for the last batch, which had some of Amy's most whimsical terrariums in it… like "Mr. Carlyle and the Grumpy Bunny" and "Nobody Holds a Candle to You, Dear". (Yep, naming the terrariums was one of the silliest and funnest part of the project… thanks, friends, who lent a hand!)
Meantime, I was getting to know what we were working with: since I hadn't made terrariums since I was eleven years old, I needed to research the raw materials, starting by hanging out at the shop to run my hands through the beautiful sands, pebbles, and crystals, and calling suppliers to learn about all these charming, puffy little clumps of mosses and lichens, sands and stones, blown glass bubbles, sticks, beads, bones, and assorted oddities Amy keeps around the shop… and calling the growers to ask questions about the nomenclature of any particularly difficult-to-identify succulents.
My aim was to describe how Amy made these 50 glorious creations so that anyone could follow the instructions with ease and either replicate the beautiful terrariums in the book or use the guidelines to make their own completely individual terrariums. We also both wanted to inspire readers to try adding interesting materials they had on hand, if they chose to go that route.
Finally – and perhaps most importantly, to me – I needed to provide meaningful care instructions for each of the terrariums. That was surprisingly challenging at times, given that many succulents that look similar can have different requirements, and the contained atmosphere of a terrarium can really accentuate heat, or light, or airlessness, depending on the size and shape of receptacle used. Basically, I wanted to help anyone succeed who might want to nurture the plants for years to come, even knowing that some people are more focused on the look than the plants.
Of course, the plant nerd in me wanted to get really specific and detailed… but I had to let go a bit, and allow for the fact that . They're as much tiny installation art projects as they are miniature gardens. And it's up to each terrarium creator how much of which it will be.