Made in PDX
Furniture Tha's Old and New, Bright and Beautiful
Cross good design with high craft and old stuff and you get revolutionary furniture. A new retail studio in the Pearl district collaborates on pieces that are thoughtful, familiar, and original.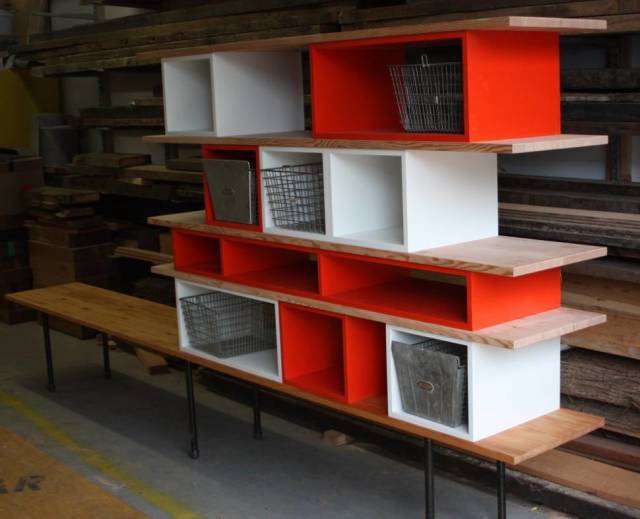 Furniture with a history is the goal for one of Portland's newest design collaborations. Hammer & Hand and Bright Design Lab have a sort of "open marriage" in their new retail studio in the Pearl district. Both firms are engaged in other design projects separately, but, together they are working on an eye-catching collection of upcycled furniture. The line of bookshelves, end tables, storage units, and more, is crafted from reclaimed timber and other locally salvaged stuff. Without losing the character of the aged material, the design-build team infuse found "junk" with style and function to create something totally original and new. Upcycling makes so much sense in Portland.
The terms "upcycling" and "locavore" are words that came about within the context of contemporary culture, in fact, as recent as the last decade. You wouldn't find these words in a dictionary you bought for a buck at William Temple House thrift store. But you might find some ratty old tables or shelves that could be transformed into something useable and interesting… if you knew how. Et voila: upcycling. In the 2002 book, Cradle to Cradle authors defined upcycling as "The practice of taking something that is disposable and transforming it into something of greater use and value." This is exactly what Hammer and Hand and Bright Design Lab are up to. It's a really good thing, especially in our fair city of environmental thinkers, movers, and shakers.