DIY
A Space-Saving Headboard
Check out this beautiful handmade headboard from local designer Matt Pierce of Wood & Faulk, then make one of your own thanks to his clear and clever how-to guide.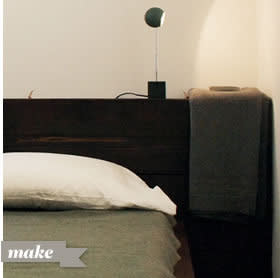 I've been hankering after the gorgeous canvas and leather bags that Matt Pierce of Wood & Faulk carefully creates. While going through his online shop and picturing myself with a navy bag slung over my shoulder, on my way to some jaunty Cape Cod weekend home, I happened across his blog and this genius homemade headboard to which Pierce kindly includes a how-to guide for readers.
Living in a small century-old NE Portland home, Pierce grapples with an older home's rather constrained spaces. As a smart solution, he created a headboard with built-in storage for books, blankets and pillows, with a place for a lamp and clock on top. Using cedar fence planks (although you could go with any reclaimed wood or antique planks you can find), Pierce outlines on his blog the necessary materials and tools, and then a really detailed series of steps of how to actually make the headboard.
But perhaps the most helpful tip of all? Pierce includes a time-lapse photo gallery of making the headboard on Flickr. Perfect for those of us who learn best by seeing a process in action, rather than just reading (or skimming) directions.
The result? A smart, space-saving solution that looks solid, expensive, and extremely attractive.
(For more pictures of Pierce's place, check out his house tour on the great blog sfgirlbythebay.)