gardening events
Attracting Native Pollinators To Your Garden or Farm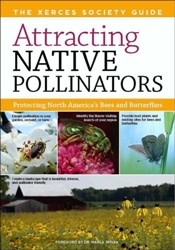 WHAT: Nature After Hours at Tryon Creek State Park
WHEN: Thursday June 2, 2011, 6 – 8:30 pm
WHERE: Tryon Creek State Park, 11321 SW Terwilliger Blvd., Portland OR 97219
Matthew Sheppard, Senior Conservation Associate with the Xerces Society for Invertebrate Conservation and one of four authors of a new book titled Attracting Native Pollinators will give a talk on… not surprisingly… supporting North American native pollinators. The talk – and book (published by Storey Publishing) – is suitable for gardeners, and also small farmers, orchardists, bee-keepers, and anyone else with an interest in conservation and the practical issues involved in actually attracting such creatures and sustaining them by creating suitable habitat.
Why should we care about native pollinators in our region? Partly because so many are endangered by habitat destruction – a conservation issue that affects insects, birds, mammals and plants, for starters. But another reason it's important is that pollinators are beneficial in gardens – and absolutely essential to the production of food in fields, farms and orchards. The lives of pollinating insects are also quite fascinating and truly deserve closer examination.
The program is open to adults (beer, wine and other refreshments will be served). Free, no registration required. For more information, go here or call 503-636-4398.