$10 and under
Cheap, Chic Scrubbing Brushes
Forget those nasty blue or green disposable scrubbers. Instead, pick up these Chinese versions made of sustainable bamboo for only $3 at Cargo.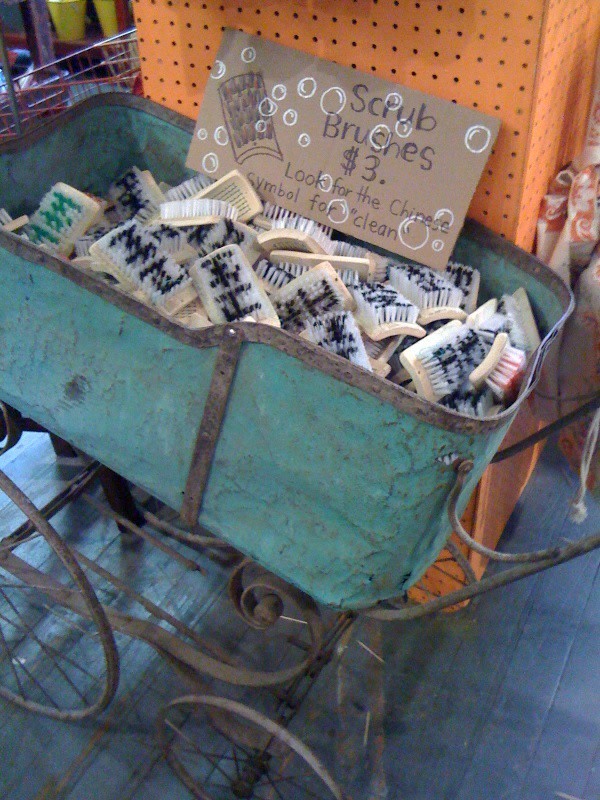 Step through the heavy wooden doors at Cargo in the Pearl District, and you're immediately transported to a bazaar somewhere in Asia. I always find interesting items here that make me yearn to find a use for them, from fuzzy stones covered in fake grass to tiny Chinese baby slippers. The other day, though, I found a whole metal carriage full of scrubbing brushes that are so resolutely practical while fitting perfectly into my hand and looking good in a utilitarian-chic sort of way, that I couldn't pass them up. And for $3 apiece, they're definitely a good deal.
Wander under brightly colored paper lanterns dangling from the ceiling, around stacks of fantastic printed textiles in rainbows of colors sitting on shelves that climb up the walls, and weave your way through tables of waving gold cats and mahjong tiles, and tucked against a small wall is the wrought iron carriage full of these brushes.
Made in China, they're a sturdy bamboo with nylon bristles, hand tied with various colors of twine. Apparently, the symbol on the brushes is the Chinese character for "clean," although I'd take this suggestion with a skeptical grain of rice. But whatever. They're cute, they clean well, you can toss them in the dishwasher after a particularly hearty scrubbing session. About the same price as their disposable counterparts, they're my new steady friends at the sink.