plants and politics
Jasmine Banned in China
start your own "jasmine revolution"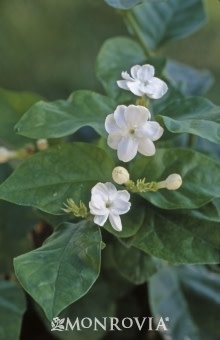 Newsbreak: Jasmine banned in China!
According to a recently published New York Times article, both the flower and plant itself cannot be sold, purchased, worn, or talked about in China for political reasons.
According to journalist Andrew Jacobs: "Beginning in February, when anonymous calls for a Chinese "Jasmine Revolution" began circulating on the Internet, the Chinese characters for jasmine – (????; pinyin: mò lì hu? chá). – have been intermittently blocked in text messages while videos of President Hu Jintao singing "Mo Li Hua," a Qing dynasty paean to the flower, have been plucked from the Web. Local officials, fearful of the flower's destabilizing potency, canceled this summer's China International Jasmine Cultural Festival, said Wu Guangyan, manager of the Guangxi Jasmine Development and Investment Company."
I can only think about the myriad jasmine growers who have spent two or three years growing these little shrubs from cuttings… only to have the market for their plants suddenly bottom out.
The species of jasmine under governmental lockdown is known in English as Arabian jasmine (Jasminum sambac), an exceptionally fragrant species used extensively throughout Asia in gardens, as well as to flavor oolong and green tea and to make fragrant garlands. But since I don't imagine the bureaucratic enforcement agencies are botanists, it's likely that any jasmine that shows up at the market would be banned.
Want to start your very own jasmine revolution in Portland? This species is tropical and won't survive our winters. But it's a charming houseplant if you have a cool, bright room in which to overwinter it. Just bring it outdoors when summery temperatures arrive.
Arabian jasmine is sometimes available in little 4-inch pots in the indoor houseplant section of retail nurseries. But more often, you'll find it in hefty 5-gallon pots at retail nurseries like Dennis' 7 Dees and the Portland Nursery that sell Monrovia plants.