gardening events
Inviting Vines Garden Tour, Schreiner's Iris in Bloom, and a Country BBQ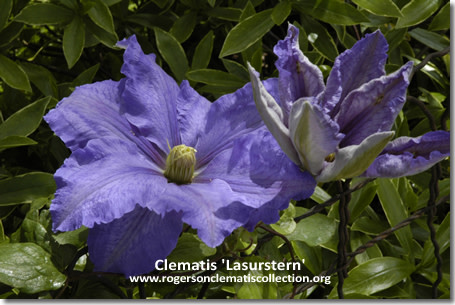 At this time of the year, there are more garden goings-on than you could shake a stick at. With the long Memorial Day weekend, perhaps you'll have time for a few.
Saturday May 28, 10-4: Inviting Vines IV Garden Tour, a benefit to sponsor the non-profit organization, Friends of the Rogerson Clematis Collection. Tour five private gardens in SE Portland that are rich in clematis species and cultivars, as well as the Rogerson Clematis Collection gardens at Luscher Farm in Lake Oswego. Tickets are available on line at the website and at Dennis' Seven Dees, Magnolia Manor, Garden Fever, Portland Nursery on Stark Street, Joy Creek Nursery, Farmington Gardens, Gardener's Choice, Digs, and 13th Street Nursery in Salem. Cost: $20.
Through Sunday June 5, the Iris Festival continues at Schreiner's Gardens, Salem. Schreiner's 10 acres of display gardens are open from dawn to dusk during bloom season – and since everything's so late this year, you'll be there during the peak of flowering. The gardens contain 500 named iris varieties, labeled so you can pick out the crazy colors you like best. Like suave, modern brown iris? They have 'em. If you're partial to steely blue or silky black iris, they have those, too. And of course you can find the old-fashioned bicolors, frilly pinks, purples, yellows, and every variation on the above. Parking and admission is free. The cut flower show is 9-6 and cut flowers are available for $6 a dozen.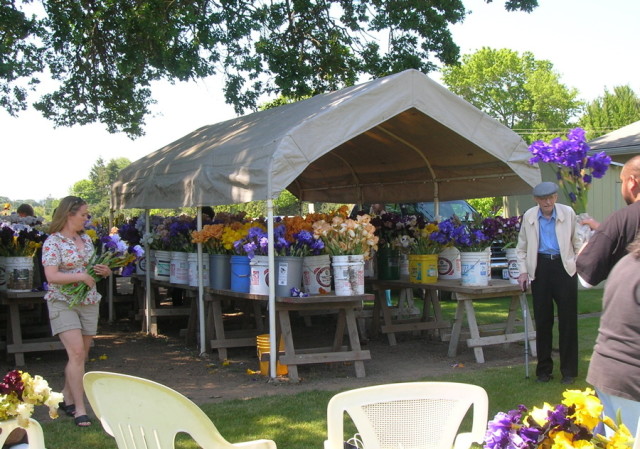 The iris fest culminates on Memorial Day, Monday May 30, from 11:30 – 4, when Schreiner's holds their annual Memorial Day Chicken BBQ. The culinary talent of the Gervais Knights of Columbus is on offer, with the lively music of the Capital City Jazz Band from 1-5. Seriously – bring your dancing shoes and a $10 bill for admission.