Out & About
Think It, Design It, Build It
ADX, a community design space, will have its grand opening June 3rd. The giant studio-meets-thinktank-meets factory is a new, shall we say, prototype, for designers of every ilk to share space, tools, ideas, and inspiration.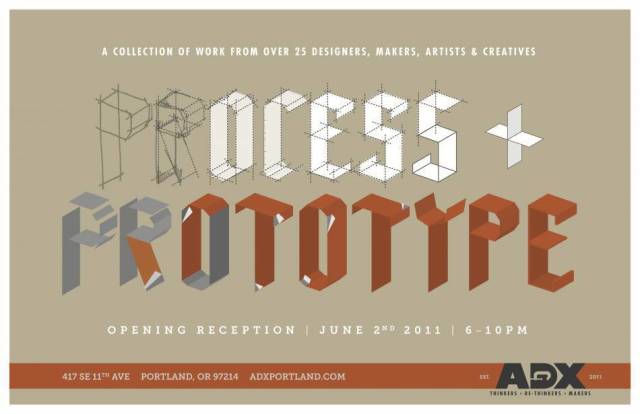 Looking for a place to build your dream machine? A shop to weld that funky desk lamp you designed? A super fine router to finish that coffee table you started in 2008? At ADX, all of your designer dreams can come to fruition, from design to prototype to fabrication. The community workshop in Southeast Portland is a collaborative design studio where classes, shared spaces, experts, and teachers come together.
"The best way to describe ADX is that we're a health club for design geeks," explains co-director Eric Black. With partner Kelley Roy, Black developed the concept in response to his own experience in automotive design, industrial design, and architecture, "We wanted to create the ideal workshop where people from different design backgrounds come together to share ideas and work across a variety of timelines and scales. There's so much design perspective that can be gained from stepping out from behind the computer screen and into actual prototyping space," he declares.
The 10,000 square feet warehouse is a shared space where members of ADX can use the space for their own projects, in addition to taking classes and other needs. Memberships are offered at different levels, ranging from $25 to $155 per month. You won't find trainers, treadmills, and weights, but instead, lots of power tools, work tables, materials, and experts to get you to your design goal. From industrial designers and architects, to graphic artists and videographers, the Gang of Ten are a team of handpicked pros that will offer members discounted rates on consulting services. ADX is a brilliant idea in a not so brilliant economy. And, another feather in the design cap of Portland, Oregon.
Mark your calendars for June 3rd, Friday, 6-10pm, when ADX celebrates its community of makers at the grand opening party.
www.adxportland.com or email [email protected]
417 SE 11th 97214 503 915 4342
Open seven days a week, 7 am to 11 pm