Desirables
Marimekko Online
Finnish company Marimekko has long delighted with its colorful, cheerful graphic prints. Thanks to a new online store at Crate and Barrel, Marimekko is now available with the click of a mouse.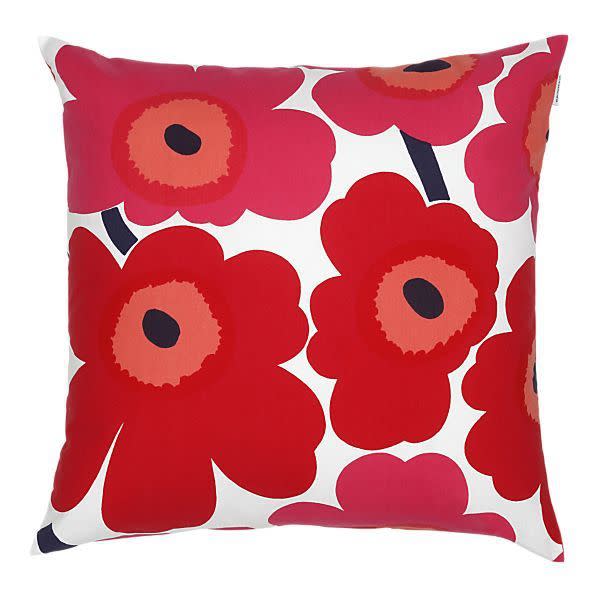 Marimekko's bright and bold designs have been cheering up legions of fans since the Finnish company's creation in 1951. With vibrant red poppies, black and white circles, and brilliant fields of blue spilling their way across pillows, decorating dresses, and even dotted over cars, the graphic Marimekko patterns have become widely recognizable. Now, Crate and Barrel has introduced a Marimekko online store making it easy to buy all things Marimekko.
Crate and Barrel has long had things from Marimekko on its shelves, but the products have been limited to a pillow here, some sheets there. With the online store, there's much, much more. From teapots to oven mitts to towels and even the most awesome ottoman, there's a full complement of Marimekko goodies to be found. Crate and Barrel is also rolling out a whole line of Marimekko stores-within-their-stores, but it's currently limited right to four shops in New York, LA, and Chicago—and another one opening in San Francisco on May 26. But local shoppers, have hope: the company says that it's going to launch another 18 such stores by 2013, and if we're lucky, Portland might be one of those shops.
For those who want a little more history on Marimekko, I'd recommend the excellent book, Marimekko: Fashion, Fabrics, Architecture. For anyone else—or those who are just finding the ceaseless rain to be a complete downer—order a bright poppy mug for your tea, and bring a little Finnish sunshine into your day.