Feature
Secret Gardens
With a freewheeling spirit and a small army of fervent plant geeks, the McMenamin brothers have casually cultivated some of oregon's most stunning gardens.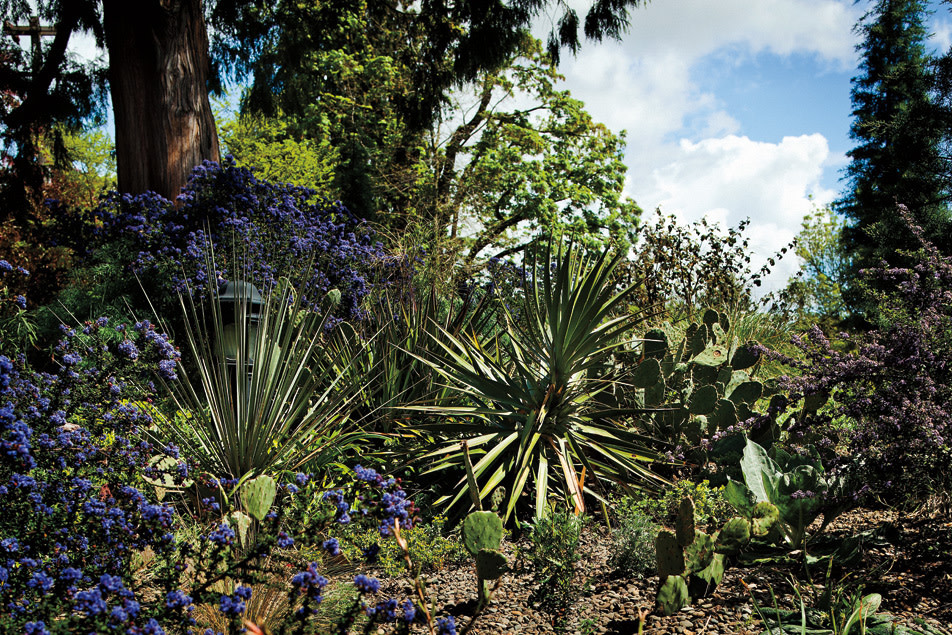 FROM THE SHANGLIN GARDEN of the Qin Dynasty in China to Versailles in France, the great gardens of history have often been built by emperors and aristocrats. So it's fitting that some of Oregon's most ambitious gardens come courtesy of barons—specifically, barons of beer, the McMenamin brothers. Heeding the same by-their-own-rulebook spirit with which the duo reinvented the neighborhood pub, the movie theater, the B&B, the whole field of historic preservation, and, of course, beer, they have quietly but thoroughly peppered the state with a series of gardens that mix the usual McMenamin quirkiness with a truly adventurous horticultural spirit.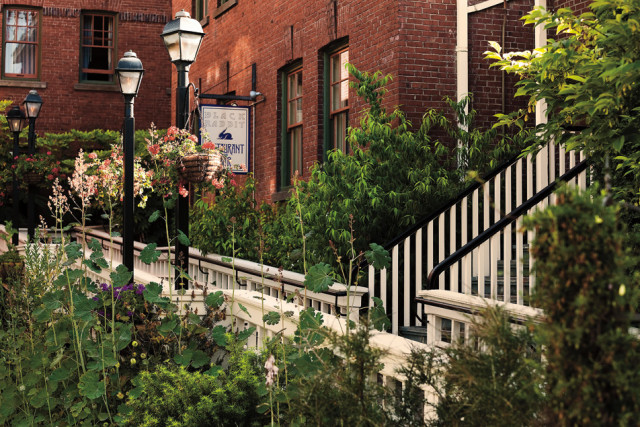 Since opening their first pub, Southeast Portland's Produce Row Café, in 1974, and helping shepherd through legislation that legalized microbrews in 1985, the brothers have created an empire of 57 pubs, eight historic theaters, eight hotels, and two sprawling conference facilities. But in his typically laconic style, Mike McMenamin describes their progressive business strategy simply: "I loved beer, music, art, and old stuff," he says. "You layer stuff you love into a business, and something good's bound to pop out."
In the brothers' standard Grateful Dead jam-session aesthetic, they eschewed other local tastemakers' high architectural and artistic standards in reviving and decorating old buildings. Likewise, for their gardens, the brothers skipped the tony world of landscape architecture and went straight to the garden geeks. The plant fever first blossomed with the arrival of Patrick McNurney, hired in 1989 to replant the Fulton Pub's patio garden.
Within a year, McNurney was working alongside Mike McMenamin to lay out orchards, vineyards, and the first ornamental gardens to surround what would become the McMenamins' largest property—the Edgefield Manor in Troutdale. Today, McNurney (a former estate gardener who worked at some of Southwest Portland's finest gardens, including the Wallace K. Huntington–designed Jantzen estate) oversees a trio of gardeners: Kimberley Kincaid at Edgefield, Erich Petschke at the Kennedy School, and Nicky Love at Cornelius Pass Roadhouse. The only rules? Respect existing trees, be quirky, and design naturalistically.
"I'm no gardener," admits Mike, "but I've always admired the organic look. And this company has evolved pretty organically itself; more as an emotional ride than as a business plan. It's layered, like the gardens. Hopefully it all fits together."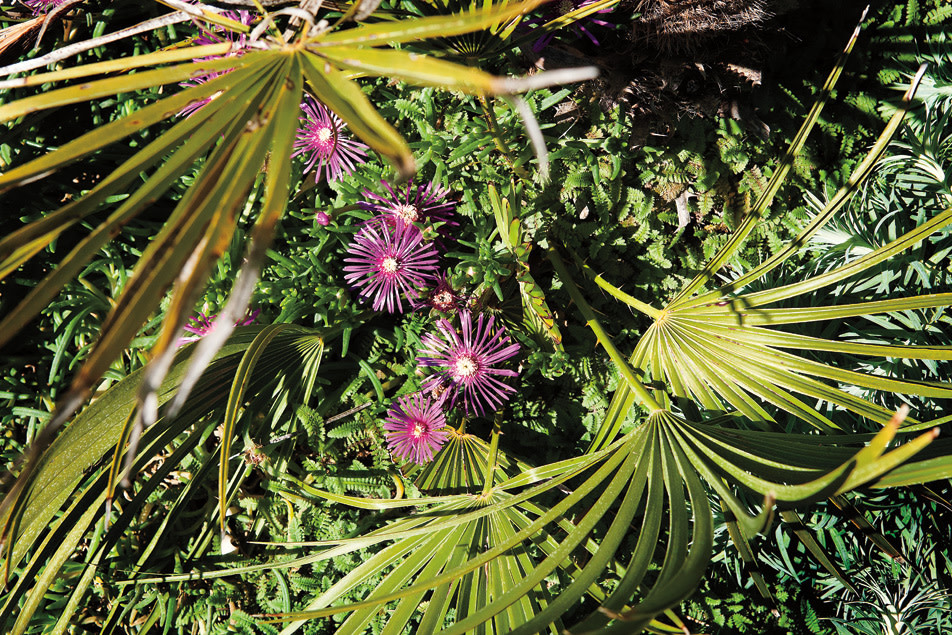 The Steward
Kimberley Kincaid / Head Gardener, Edgefield Manor
ACQUIRED IN 1990, Edgefield was the McMenamin brothers' first major historic renovation project. Originally built in 1911 as the Multnomah County Poor Farm, the property is now the crown jewel of the empire—a cozily sprawling complex of funky restaurants, a hotel, a cigar bar, a spa, a craft brewery, a distillery, a winery, and gardens.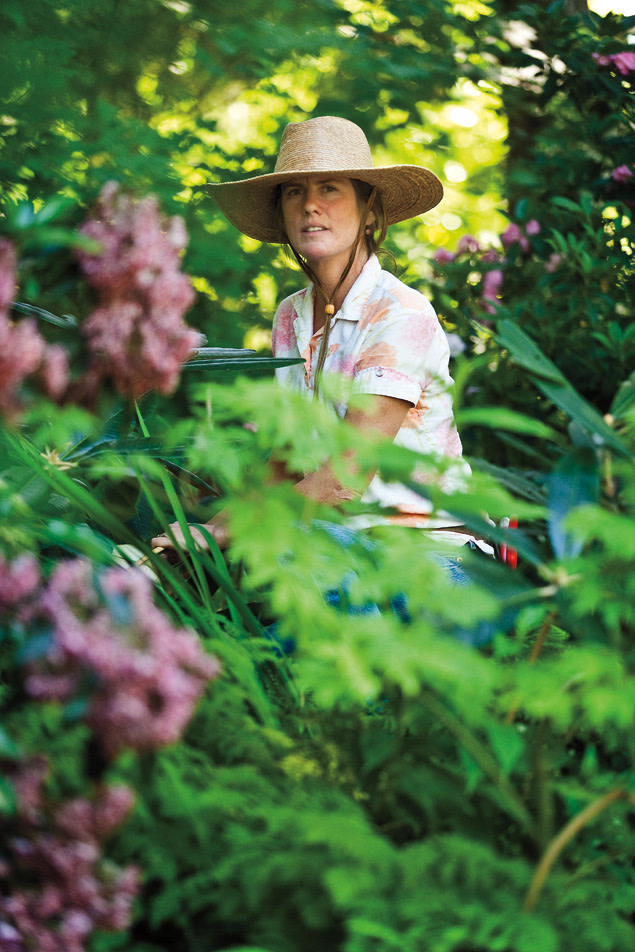 Kimberley Kincaid has been at Edgefield from the start. A Portland native who was working as a gardener and florist in New Orleans when the McMenamins acquired the property, Kincaid was lured home by chief gardener McNurney (a friend) and the prospect of helping to shape such a large, fecund site. In the garden, Kincaid has skillfully fostered a whimsical, down-the-rabbit-hole experience at Edgefield. She accents the buildings with adventurous plant selections attuned to the acreage's microclimates: she wisely places more tender plants like Azara and Fremontodendron along south- and west-facing walls, and cold-tolerant conifers and hardy shrubs where the wind rips through from the east.
Strategically placed, Dr. Seussian plants like coastal redwood (Sequoia sempervirens) provide tongue-in-cheek punctuation while artistic details like the psychedelic, colorfully striped fence-post finials carry the indoors out and highlight the atmosphere of festive yet barely restrained chaos.
Nearly every visit to Edgefield reveals a new garden. Recent updates include the Southern Hemisphere and Asian-inspired additions around the soaking pools, which showcase plants with striking texture and year-round interest. But Kincaid is equally inspired by a sense of legacy: "Our role here is far more than just making this a pretty place," she says. "We need to be good stewards." The property's vast, productive kitchen garden, for instance, is a prime example of biointensive methods in action. Large specimens of unusual plants like graceful Azara microphylla trees with vanilla-scented flowers, magnificent, sunshine yellow–flowered California flannel bush (Fremontodendron californicum ), and flaming orange Chilean fire bush (Embothrium coccineum) demonstrate varying levels of cold-hardiness when the frigid Gorge winds blow through. The results are year-round flowers and showy plants that perform from spring to winter, a continuous illustration of the marvels of gardening in our felicitous Pacific Northwest climate.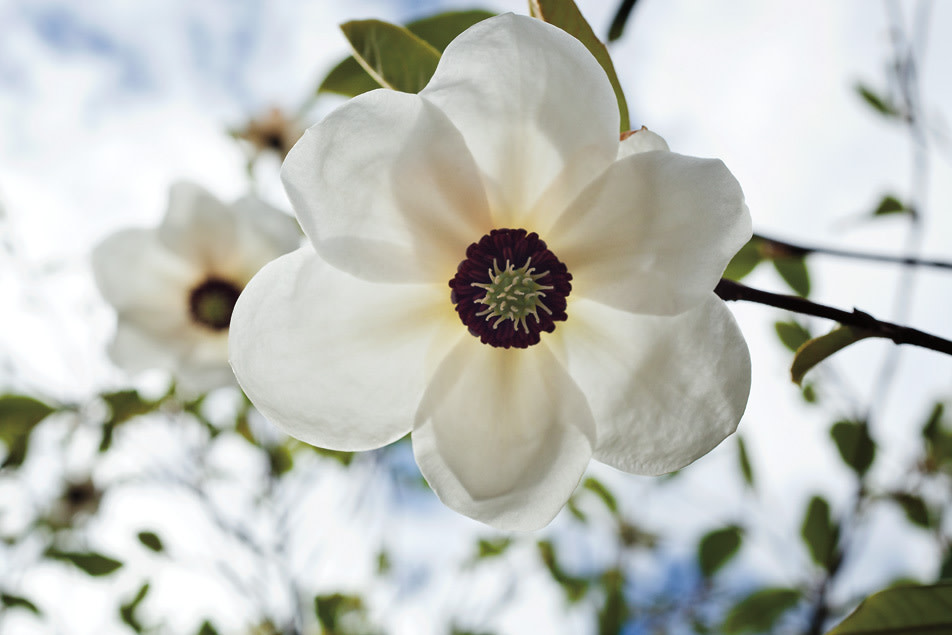 The Dramatist 
Erich Petschke / Head Gardener, Kennedy School 
"MY MISSION AS A GARDENER at McMenamins is to entertain," says Erich Petschke. "You want that wow ?factor—for people to experience sensory pleasure in the garden. Especially for people who return regularly, you want to create a sense of surprise and delight each time."
Kennedy School's transformation began in 1997, when it was converted from a long-vacant Portland Public Schools building into a vibrant community destination. Born from a desolate schoolyard, the gardens took shape in a matter of months, with sourcing, design, and planting courtesy of McNurney and Kincaid. Petschke got his start in 1999 on the Edgefield garden crew, armed with a fervent interest in plants but little professional experience. Soon, his passion earned him the top job at Kennedy. 
"The only thing Mike really insisted on was a homage to the old cherry trees—because this neighborhood was built around orchards at the turn of the century," says Petschke. And he does take care to heed the site's history, tending to the vestigial trees and finding new uses in the garden for architectural pieces salvaged from the building. But what Petschke really delights in is the freedom to experiment. "Botanical gardens have strict rules, and you have to go through committees before planting anything. While I do log everything I plant, I don't have many limitations." 
Kennedy's gardens contain plenty of Portland stalwarts, like winter daphne and rhododendrons. But at heart, Petschke is a collector, hoping to open minds to the amazing array of plants that can be grown locally. Call it stealth gardening: throughout the property, unusual species are woven in amid the standards. "I see someone admiring the big, showy flowers of a rhododendron," he says. "Then, next thing I hear is, 'Hmm, I've never seen this before—what is it?'"
Thanks to the urban feel of patios, lawns, fences, and driveways surrounding the central school building, the property is laden with the kind of spaces home gardeners often contend with. Visitors see things they like and adapt them for their own yards. And while Petschke values that connection, he's also out to turn the idea of a commercial landscape on its head. "Most commercial gardens are static," he says. "Here, we're showing what you can do with a property like this."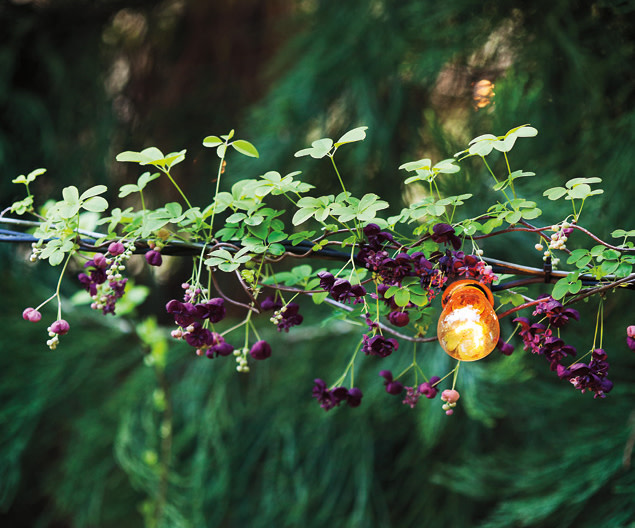 The Wild One
Nicky Love / Head Gardener, Cornelius Pass Roadhouse
"I TEND NATURE," says Nicky Love, reveling in the spiritual gray area between what a gardener does and what a garden does. "Many people don't get to spend much time around nature. My philosophy is to give people a chance to see some wildness—and to help them get turned on to the natural world by seeing unique and unusual plants." 
Love got her start in the equally free-spirited Joy Creek Nursery in Scappoose before developing the gardens at the Cornelius Pass Roadhouse nine years ago. Originally a working farm established by the Imbrie family, the six acres are punctuated by a 1866 Victorian-era Italian Villa–style home, an octagonal barn, and a granary that, built in the 1850s, is one of the oldest surviving agricultural structures left in the state. The McMenamins purchased the property in 1986. Surrounded by both Hillsboro's suburban sprawl and numerous wetlands brimming with birds and wildlife, it now features a tiny pub (built in an old milking shed), a brewery, and a multilevel restaurant built with timbers from the former Blitz-Weinhard headquarters in downtown Portland.
A filigree of foliage from nearby trees half-obscures each structure, creating the experience of "unveiling" each nook of the property. Outdoor spaces seem carved out of the wild: a peaceful meadow surrounded by wild roses; grape vines clambering up walnut trees; a rustic magnolia glen; an archway made of golden chain trees (laburnum); and an original Imbrie family apple orchard, all connected by meandering paths through jungly brambles.
Honoring the McMenamins' tradition of selective preservation, Love saved trees from the original family farm—walnuts, fruit trees, a stand of Douglas fir, and ornamental species—when the gardens were first developed. Bit by bit, she's whittled down the thickets of invasive Himalayan blackberry and bindweed, replacing them with wildlife-friendly trees and shrubs.
Overall, Love strives for a balance between the ornamental features (which include a freshly planted new vegetable plot) and a subtle guardianship of the wilder parts of the garden. "My goal is to keep it feeling like an old family farm—with wild pockets," says Love, "just as there would have been when the Imbries lived here."