Made in PDX
Sweet Schoolhouse Electric Lamps
Forget traditional fixtures! These new Schoolhouse Electric table lamps are sleek, industrial, and very modern.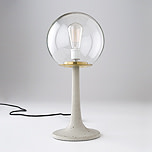 Local lighting company Schoolhouse Electric Co. is perhaps best known for its beautifully reproduced period shades, hand-blown and made using antique molds from the early 1900s through the 1940s. The shades are lovely, but definitely traditional-looking. Now, the company has just introduced its first series of table lamps that infuses modern design into the mix with some standout styles, from retro to industrial to just plain pretty.
There are fourteen lamps in the new collection. Though the styles vary and materials differ—including porcelain, concrete, glass, steel, and brass—the overriding idea seems to be stripping down a light to its basic functional essence.
There's no frippery here, no frilly shades hiding the bulbs. Instead, the lights and the wiring are part of the overall aesthetic, mixed in with shades in strong oval and round shapes, and set on stands that look like Bunsen burners (the Beaker Lab Light particularly reminds me of my high school chemistry class and some unfortunate incidents with sulfuric acid…). There are a couple more expected styles, like the Graduate lamps, that look a little more Art Deco. But most of this collection is minimal industrial styling, like the beautiful Orb Lab Light or Matter Lamp, a look that would work in any period home, on a bedside or living room table.
And like all other Schoolhouse Electric Co lights, most of the parts for these lamps are made in Portland, at the company's Central Eastside production facility in an old 1910 building. Check out the lamps in person at the Portland showroom at the corner of SE Oak Street and MLK Boulevard, or order online.