plant of the week
A Fantastic and Often-Overlooked Native Perennial
False Solomon's Seal – Smilacina racemosa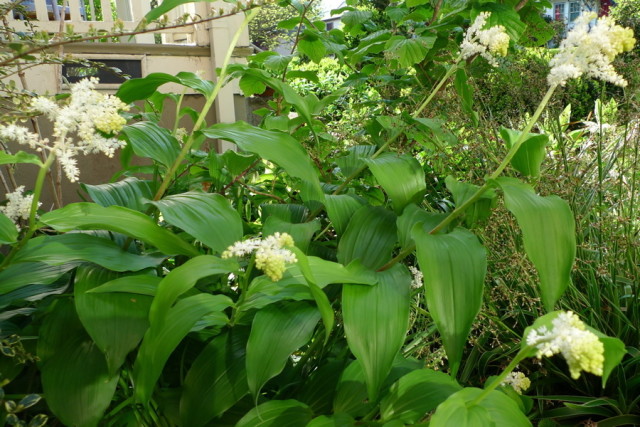 Smilacina racemosa – also known as false Solomon's seal – is one of the loveliest of spring time natives found growing in woods and forest margins of the Pacific Northwest.
This beautiful, clumping, herbaceous perennial – deemed highly garden-worthy by the Great Plant Picks program – provides wonderful foliar texture in the shady garden. Add those amazing mid-spring puffs of foamy white flowers unfurling from creamy yellow buds and you have a great garden perennial.
In summer, after it has flowered, false Solomon's seal just sits there looking pretty while the small fruit develop. They start out green, like little marbles, gradually turning fiery red by season's end, at which point birds eat them up.
But the very best feature of false Solomon's seal is its fragrance – it's powerful, penetrating and only needs a wall or structure to help contain and intensify it so that a passer-by can drink it in.
It reaches about 36 inches tall and, in time, becomes a statuesque clump. It mixes well with other moderately drought-tolerant, shade-loving natives like rhododendron (Rhododendron macrophyllum), sword fern (Polystichum munitum), Cascade Oregon grape (Mahonia nervosa), twisted stalk (Streptopus amplexifolius), and false lily-of-the-valley (Maianthemum dilatatum). But there's no need to confine it to a native garden – it's a subtle, elegant beauty, wherever it's situated.