Desireables
An Artisan Plasterer Right Here in Portland?
Francois Pascal does magic to any wall he touches. This local is changing the way we think about walls and the notion of here today, gone tomorrow.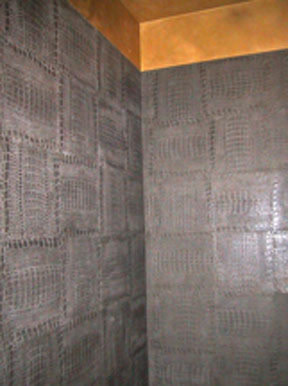 Francois Pascal sometimes feels like a fish out of water, or perhaps a frog… As Portland's finest artisan plasterer, he is a bit of an anachronism. A trip to a plaster factory in Verona in the early seventies ignited his passion for the age-old craft. He reminisces, "I was there, but it was all so secretive, you know like Romeo & Juliet… and they didn't want to teach me anything." So he "stole" a recipe and headed to Paris where he worked for many years with some of the cities finest designers and famous clients. Tired of the hustle and bustle of Paris, he moved to Santa Fe with his young daughter, then also exploring the Seattle area. There was lots of work there until the economy crashed. And suddenly, he found himself in Portland.
Plaster is very different from paint. You can create so many moods and environments. The materials and technique imbue walls with emotion and depth that is inimitable and almost palpable. It feels alive and rich, unlike the thin qualities of a basic paint job. Applying layers and layers of pigment, plaster, sand, and other mysterious elements takes patience, skill, time, and a certain budget to pay for it. I asked Pascal how he would finish his own home, "I would use this technique from Mondova Italy: One coat of plaster and sand and then eight to twelve coats of very thin plaster; This might keep me busy until Xmas …ha!"
The average time to complete one room is anywhere from three days to three weeks, depending on the size, texture, and quality the client desires. From leather to wood to snakeskin finishes, the plaster finish is superior and mimics real life. And despite the cheaper versions and copycats, no other technique comes close to what a true artisan plasterer can achieve. It's an antiquated art that deserves a comeback. But what will become of artisan plastered walls in a time where everything is immediate, cheap copies, and made in China?
Portland has not shown enough interest in his work to keep him busy full-time, so he flies to other buildings and homes, finishing walls for the President of Mexico or for a producer in Los Angeles. Here in Portland, he's had the opportunity to work in a few homes and condos. Last year, he completed a powder room in a modern home designed by Brad Cleopfil. The turquoise plastered walls are stunning, saturated with gold pigment. You know right away that this is not just any ordinary wall covering. He has also worked with local interior design star, Jessica Helgerson, as well. His most recent job was to finish several rooms in a newly constructed home in the Southwest hills for a client and local architect. One of the rooms he finished was sheathed in crocodile, as per the client's request, and a gold patina-ed ceiling. It's the work of fantasy, art, and technique. And, like Pascal, his walls are one-of-a-kind treasures, to last into eternity.