Desirables
Folding Chairs from Anthropologie
Having a party and need extra seating? Ready to move your dinner outdoors and want something flexible and lightweight? Pick up a few of these pretty summery chairs from Anthropologie and immediately perk up your setting.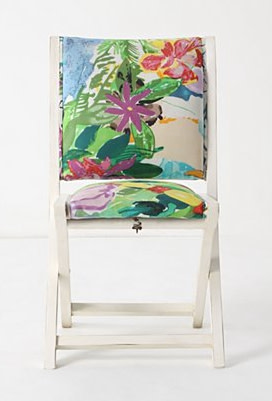 Summer has been a long time coming, and lest I drive the sun back behind the clouds, it seems like perhaps it's finally here. With a weekend of warmth ahead, it's the perfect time to pull out some extra chairs, open a bottle of cool white wine, and lounge in the back yard with some friends. These chairs would be a beautiful summer seat.
The chair's design, handscreened by artist Rebekah Maysles, is lush and tropical and completely fit for summer. Paired with the simple whitewash of the wood chair frame, I can see this with either a modern table or traditional look—or even a chunky rustic piece. The website says it's intended for indoors, but I'd use it outside, just not leaving it out overnight and making sure it doesn't get wet.
Easy to stack, lightweight to carry, it's a happy, fun seat to usher in summer.