Openings
New Vintage Modern Store
If you like mid-century modern goods, check out this new pop-up shop called Revolver Vintage in NW Portland that spans the globe, from Italy to Denmark to the U.S. in its design offerings.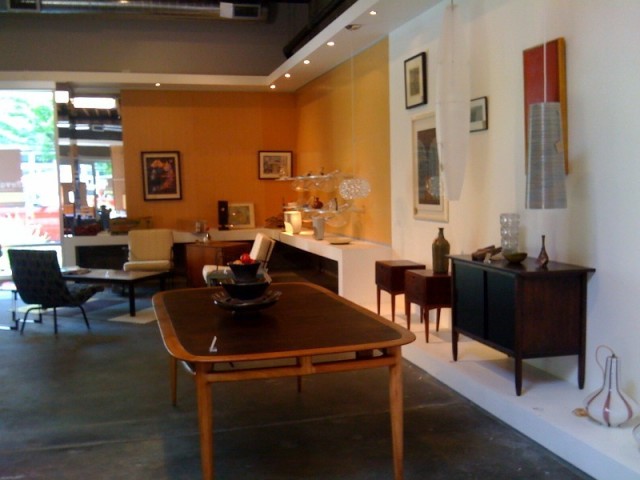 Remember Janus Home, previously on 1324 SE Grand Street? Owner Jeremy Schneyer closed up shop a little over a year ago and moved into a warehouse at 911 N. Monroe Street. Now, he's opened a brand new place as Revolver Vintage, a pop-up shop (in other words, temporary and looking for permanent digs—Schneyer hopes somewhere in the Pearl) at 1715a NW Lovejoy Street in the old Relish store space (they're now next door).
The new space is nice: Light, bright, and a far cry from some other dimly lit dank vintage shops that we've visited around town. Much of the same stuff is here that was at Janus Home, if you're familiar with the store's previous iteration. There's a classic Danish desk that Schneyer says is circa 1950s, which he completely stripped and refinished into a gleaming wood showpiece. Also good on the floor: a great set of Danish modern rosewood nightstands, a perfectly worn black leather club chair, and a fantastic curved floor lamp by contemporary Austin artist Michael Wilson. There's also a lot of stuff held in the warehouse that Schneyer plans to finish and restore, and which you can see on the store's website.
So is it just another vintage store (there are a lot around Portland)? Schneyer says no. First of all, he's one of the few such places westside. But more importantly, he says, "I try to be eclectic with what I present, because too much of one thing gets boring. Whether something is Danish, American, French, or Brazilian, I just want it to be unique, interesting, and high-quality — a piece that you can buy and pass down to your kids." The store is open Wednesday through Saturday, noon to 6pm (and Tuesdays by appointment); it's worth a stop to look around.