Out and About
Prefab Beach Rental
Tired of painted seashells and coastal kitsch whenever you head to the shore? This new rental is a modern prefab right off the sand in Oceanside, with muted colors, sleek furnishings, and endless views of the sea.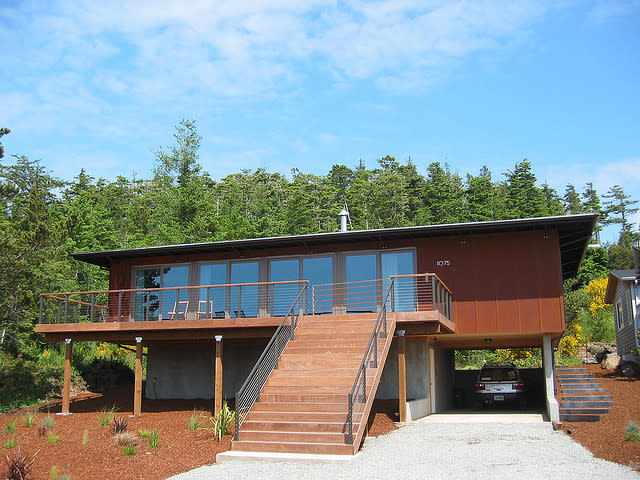 Most of the rentals I've ever stayed at on the Oregon coast are comfortable and well-maintained, but no one would ever call them a design-fiend's dream. But this prefab place at the coast? What a find! It's a model called a Wee House by Alchemy Architects out of Minneapolis, tailored to Oregon beach needs, and driven and dropped into place as an ideal rental for anyone searching for some coastal style.
Inside, lounge on the clean-lined modern couch or the Eames rocker while you gaze through the wall of windows facing the ocean and overlooking Three Arch Rocks. The colors are all minimal yet comfortable whites, woods, and creams, with occasional pops of bright red. There are three bedrooms (though one has bunk beds, so better for kids than the in-laws), a fully-outfitted kitchen (that even includes a Chemex and a panini press), wifi and satellite tv for plugged-in adults, and a sandbox and toys for little ones.
But perhaps for architecture buffs, the most compelling draw is staying in a prefab dwelling such as this, flat-packed and dropped into place by a crane, with a streamlined form. It's incredibly appealing, very modern, and definitely not a place you'll find scented potpourri (shaped like tiny sea urchins) in the bathroom.
Check out the website for availability; rates start at $225 per night.