Article
Buy Spring Bulbs Now
…while you can still remember what the garden looked like in March, April and May!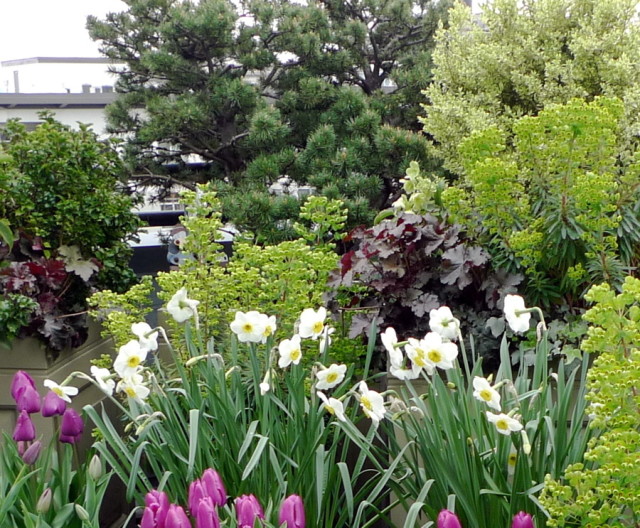 Why wait until fall to buy your spring bulbs? The catalogs for fall are now available, and ordering them early – like, now – means you get better selection. You also can order smarter, because you can at least vaguely remember what bulb plantings worked in your spring garden and which didn't. Best of all, sometimes you can find great deals online in summer, as bulb catalogs want people to pre-order when possible. To wit: right now, Brent & Becky's Bulbs is offering 10% off all fall crocus and colchicum bulbs this week. (Click here for those details.) Granted, they aren't for spring flowers; they bloom in fall, and you plant them in early fall. But a sale's a sale.
If you took any photos of your spring bulb displays, now's the time to see what bulbs really made magic in your garden and which were sort of "meh".
Since I obsess about my spring bulbs, not only do I take photos, I even take notes. Yet what works in one garden doesn't necessarily translate to another. The best thing is to experiment: pick out a few bulbs you're crazy about and buy at least ten or 15 of them to try out. If you love them next spring, buy another hundred for the following spring. You might be surprised to find how inexpensive 100 narcissus or tulips can be (per-unit prices always drop as you buy larger quantities).
Here are some of my favorite spring-flowering bulbs, all of which have been known to sell out on the early side – and are therefore worth buying early:
Tulipa 'Queen of Night'. This is the "black" tulip that everyone oohs and ahhs over. The color is actually a really dark maroon-purple and it looks fantastic with the foamy, chartreuse flowers of lady's mantle (Alchemilla mollis), as well as greenish-yellow Euphorbia flowers. Tulips generally persist best over the years in well-drained, gritty soil. Queen of Night often sells out early.
Narcissus 'Jamestown'. There are now several beautiful late-flowering, flat-cupped white narcissus with yellow or chartreuse or even green cups. This is one of my favorites for staying upright, being more reasonably priced (some of the fancy, greenish-cupped Narcissus are painfully expensive!) and for looking just smashing with nearly everything. I particularly like Jamestown paired with light greeny-chartreuse foliage and flowers and also with Queen of Night tulips and with anything acid yellow.
Allium schubertii. It's hard to go wrong with ornamental onions. They're all lovely, whether they're demure little ornamental onions (like our native Allium cernuum) or giant, statuesque varieties with flowers the size of a baseball. But the weird and wonderful Allium schubertii is one of my favorites, with enormous, volleyball-sized flowers that look like an odd silvery spaceships. Alliums appreciate well-draining, gritty soil so they're perfect for drought-tolerant planting schemes.
Crocus tommasinianum. Known in England as "tommies," these charming little flowers look dashing in a lawn, flowering during late winter when we're so in need of a boost, and then disappearing as it's time to mow the grass later in March. Plant 100 of these in your lawn and you'll be so happy you want to cry when you see them emerge in late January or early February: tiny pale spears crack open into little stars of purple with yellow pollen that drive the early bees mad with joy. It's quite a sight! You can get 100 for about $30, depending on the cultivar.
Muscari macrocarpum 'Golden Fragrance' – If fragrant flowers get you going the way they do me, you will find yourself on your knees before this plant, inhaling the magical scent of fruity, candy-like sweet bananas. There's just no other way to describe the scent. It's a small plant but so pretty, it should be planted in pots or near steps, where you can admire those big, beautiful, yellow and purple flowers close-up.
Bulb Sources:
Wooden Shoe Tulip Farm (local company)
Brent and Becky's Bulbs (they hybridize new varieties too)
John Scheepers Bulbs (retail quantities; same company as Van Engelen)
Van Engelen Bulb Co (for larger quantities of Scheepers bulbs)
Telos Rare Bulbs (unusual bulbs!)
Old House Gardens (heirloom bulbs)