plant of the week
Try Mt Etna Broom - a Broom That's Nice, Not Naughty!
Genista aetnensis
You know that bright yellow, weedy shrub that grows all over the coast from northern California all the way to Vancouver Island and beyond? That's Scotch broom, and it's an invasive species.
Thanks to the invasively spreading habit of Scotch broom, all broom has taken on a pall in many people's eyes. They see bright yellow, pea-like flowers on a wispy shrub and they think bad thoughts.
But I'm here to tell you that there are good brooms. And my favorite of them all is in flower right now in Portland gardens. It's Genista aetnensis, a small, graceful tree with many appealing features.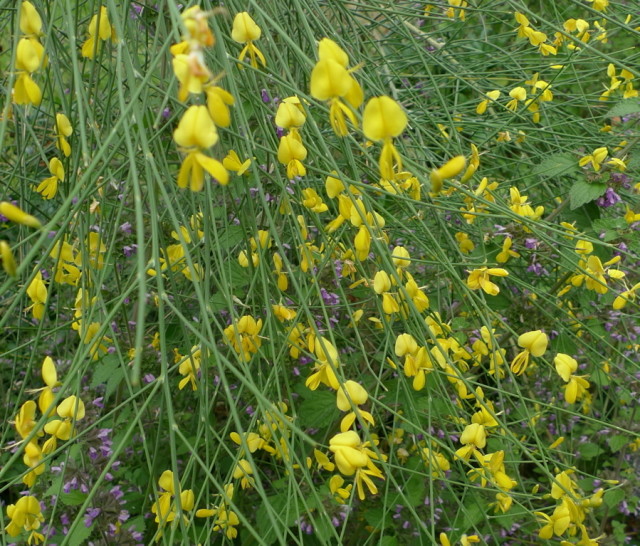 Why love it?
1. It's drought tolerant. That means it's perfect for our dry summers. (I know, this summer hasn't been so dry so far, but I'm thinking that's about to end.)
2. It forms a lovely, wispy small tree that casts little shade, so you can plant sun-loving, drought-tolerant plants under it. It creates a light screen, not a dense canopy. That's unusual, and can be used to great effect in the garden.
3. The gorgeous yellow flowers are sweetly-scented, unlike the cloying, headache-inducing aroma of the weedy Scotch broom.
4. Oh, and of course it is not invasive – it's a bit less self-sowy than lavender so there's really nothing to worry about around here.
Details:
Name: Mt Etna broom (Genista aetnensis)
Factoids: a drought-tolerant, fast-growing small tree reaching approximately 12-15 feet tall and 6-8 feet wide. Sweetly-scented, bright yellow flowers appear, scattered through the canopy throughout July. Occasionally self-sows in gravelly areas but is not known to be invasive in the slightest here. Can be found at Cistus Design Nursery and anywhere you find Xera Plants.